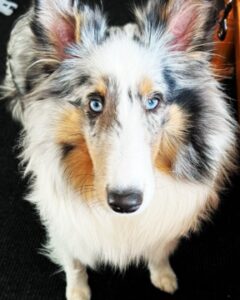 Meet Spirit 
Spirit, our Blue Merle Shetland Sheepdog, is an adorable 11-month-old pup who holds a special place in our hearts as our third sheltie. With her mesmerizing blue eyes, she captivates the attention of many, but be prepared, as she loves to engage in playful games of chase. Currently, Spirit is just one level away from completing her training to become a certified local therapy dog. She takes pleasure in forging new connections with both humans and most canine companions.  
Spirit can be seen walking in many of the local riverfront parks as she enjoys not only walking but chasing geese. She is an avid ball retriever and loves to be rewarded with many treats. Spirit accompanies her mom on occasion to her office and looks forward to getting attention from many of the fellow realtors within the office. If you'd like to see more of Spirit, feel free to visit her Instagram page, @spiritintheskysheltie. 
Spirit and her family will receive a gift basket from Croton Pet Station.   
Want to see your pet featured in River Journal North? Send a photo of your pet – just one photo per pet, please – to editorial@riverjournalonline.com. Include your pet's name as well as your name, email, phone number and zip code. Winning pets will receive a gift basket from Croton Pet Station.