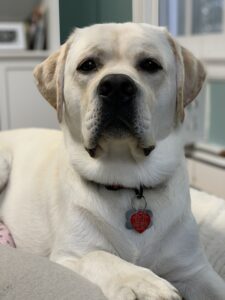 Meet Indiana Jones.
This fun loving and curious one year old English Labrador lives up to his adventurous name. Indy loves and embraces his lifestyle in Tarrytown. He enjoys play dates in Neperan Park, long walks along the Hudson, and the occasional table food from Lefteris.
He loves to people watch from the window bench and will always greet others with an eager tail wag. Indy has been a huge source of comfort and love during the pandemic and if it were up to him, he would like his "pawrents" to stay home full time forever!
Indiana Jones and his parents Matt & Alexandra will receive a special gift basket from the Sleepy Hollow Animal Hospital and Bark & Meow.
Want to see your pet featured in River Journal or River Journal North? Send a photo of your pet – just one photo per pet please – to editorial@riverjournalonline.com. Include your pet's name as well as your name, email, phone number and zip code. Winning pets will receive a gift basket and complimentary pet photo shoot from Liflander Photography! liflanderphotography.com