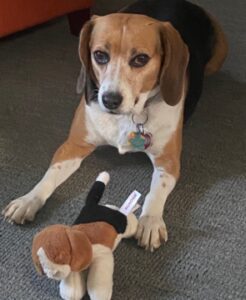 Meet Honey! 
Honey was adopted from North Shore Animal Shelter on Long Island. She suffered some hard knocks before arriving there and was a very scared, anxious pup. However, with patience, time and lots & lots of love, Honey has learned to trust & love back.  
One of Honey's favorite activities is going on long hikes with her human pack. Being a beagle, her nose works overtime on the trail and on neighborhood walks. Honey enjoys playing with her dog friends, Max, Scout, Manu & Josie and likes going to the dog park where she prefers to be the safety patrol officer high atop the picnic table. 
While still anxious around most humans, Honey is very affectionate with her human family & close friends. She prefers to sleep in her crate each night but comes to the humans' bed each morning for snuggles. In the chilly fall and winter mornings, Honey will often stay in bed until well after 9 a.m. Then, after a hearty breakfast it's time to get on her bench at the front window to watch the bird feeder and have her morning nap to dream about her next adventures. You can enjoy Honey's antics on Instagram at honey_maid. 
Honey and her family will receive a gift basket from Croton Pet Station.   
Want to see your pet featured in River Journal North? Send a photo of your pet – just one photo per pet, please – to editorial@riverjournalonline.com. Include your pet's name as well as your name, email, phone number and zip code. Winning pets will receive a gift basket from Croton Pet Station.