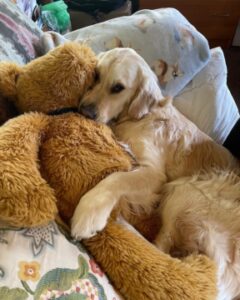 Meet Simone!  
Simone is a 2-year-old English Cream Golden Retriever who, true to her breed, is extremely affectionate to her human family and to complete strangers. She enjoys strolling the catwalk on the sea wall at Croton River Walk Park, short hikes on the local trails, tennis (balls), soccer (balls), absconding with socks, and relaxing with a good chew toy on the couch.  
Simone looks forward to playing with her neighborhood dog friends but remains a faithful paramour to her boyfriend Billy, a Golden Doodle. Simone does maintain a beauty regimen of waking after 9:00 am, nutritious meals (Please! Add more human food to my pellets!), daily brushing and long restorative naps to show her best self in a shared Instagram account: @ms.maria.pia.   
Simone would like to use this honor of being Pet of the Month to promote awareness of Lyme Disease that affects both animals and humans. Check for ticks after every outside adventure.