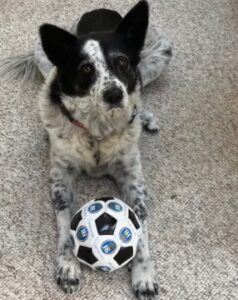 Meet Mitzi! 
Mitzi is a loving and loyal 10-year-old Border Collie mix. Guarding our chickens, keeping squirrels and rabbits out of our garden and sunning herself on the back patio are outdoor responsibilities she takes very seriously.  
Indoors, her role as chief snuggler with our 4 children is only interrupted when she keeps watch from our window seat for UPS deliveries, neighbor dogs walking their owners and visitors. She will often share the window seat with our cockatiel Marshmallow – together they make quite the team.  
Mitzi's hobbies include long walks with her family, burrowing in the snow on sunny days, and stealing soccer balls, frisbees & snow gloves from the children. 
She truly believes in saving for a rainy day – or at least in case the treats ever run out. Biscuits, dog cookies and other goodies have safely been buried in various parts of our yard. Only she has the treasure map.  
After a long day, you'll find her snoozing on the couch with our family. Then, she will jump into our son's top bunk bed for the night.   
Mitzi is very loved and we are so proud she was chosen as the River Journal's Pet of the Month. 
Mitzi and her family will receive a special gift basket from the Sleepy Hollow Animal Hospital and Bark & Meow.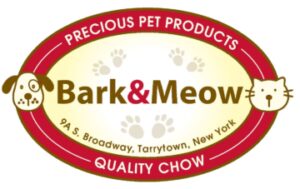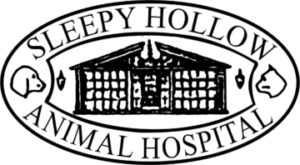 Want to see your pet featured in River Journal? Send a photo of your pet – just one photo per pet please – to editorial@riverjournalonline.com. Include your pet's name as well as your name, email, phone number and zip code. Winning pets will receive a gift basket and complimentary pet photo shoot from Liflander Photography! liflanderphotography.com