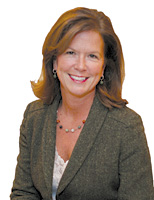 At times, we have all been guilty of excessive complaining, typically centering around how busy our lives have become. Between work, social engagements and the seemingly endless lists of to-dos that constitute life in the fast lane, we barely find time to spend meaningful moments with those we love. In our fantasies we long for the "good ol' days" when simplicity prevailed. Yet all it takes is one tragic event to stop us in our tracks and force us into focusing our attention on what is truly valuable and long-lasting. It is at times like this that the endless running around seems so pathetically trivial.
I know Robin Birrittella would have reveled in her wake and funeral. That sounds really strange saying that someone would have taken any delight in watching such a sorrowful display unfold, but Robin was all about relationships, be they family, community or business. Well known in the Tarrytowns for being a keen real estate agent, an avid sportswoman and a devoted, fun-loving wife and mother, Robin would have been awed by what she saw.  The coming together of everything that is good about the people of Tarrytown was a sight to behold, and yes, something that would have made that beautiful dimpled smile even wider. I have never witnessed anything like this great outpouring of support for the Birrittella/Bucci family. The lines to Coffey's Funeral Home for her wake extended almost to Dixon Street, steadily throughout both evenings. Transfiguration Church was packed for her funeral to the point of filling the choir area. Robin's son, Mitch Jr., said that from the beginning of Robin's illness the family knew they weren't in this battle alone. He was right. The Tarrytown community was with Robin every step of the way since the first day of her cancer diagnosis, and rallied around the entire family with prayerful support. They also came together to try and make sense out of something that makes no sense at all. The person whom my family referred to as "the healthiest woman in Tarrytown," defying all logic, had died.
I don't remember a time when I didn't know the Bucci and Birrittella families. I was born in Tarrytown and both those families have always been a part of the fabric of this village. However, I do remember the first time I noticed Robin and Mitch as a couple. I was at the Crest pool with my children and the two teenagers stopped at the snack bar with tennis rackets in hand, grabbed something to drink and headed up the hill to the courts. Young as they were, it was obvious even then that they were deeply and blissfully in love. After almost 29 years of marriage, that look never changed. They were a good match for each other… and an equally good balance. Once their children came along it was clear that all three were born of an athletically-charged gene pool.  Robin and Mitch, both with a deeply ingrained work ethic, made sure that they challenged their kids to maximize their talents in every avenue of their lives… including sports… and they supported them together by personal life coaching and attending every event possible. The children were extremely gifted, but were raised in such a way that, unlike many young athletes, their egos were not at center stage. Mitch,
Tyler and Jayne were never so impressed with their own accomplishments that each one didn't know how to be a team player. The balance of the Robin/Mitch union was obvious when the very enthusiastic but more subdued Robin quietly tamed her coach-husband when he became fired up in the heat of a competitive sporting contest. She was as skilled a coach's wife as I've ever seen. With a masterfully subtle yet effective manner Robin always managed to say to her husband, "Shut up Mitch." and make it sound like "I love you." Robin and Mitch were marathon power walkers. My husband and I would often meet them walking around the Crest and we'd wave and talk for a few minutes. Mind you, they were usually returning from their 6-mile walk while we were puffing just halfway through our 3. We always looked for them when we walked because we would use those few special moments to catch up on life and what our kids were doing. They were always gracious not to comment on the fact that we were sweating like pigs and they weren't even out of breath.
Despite all the real estate awards and sports trophies, Robin took her greatest pride in her children. Robin would have been justly proud of the maturity and composure those three young adults displayed at her funeral. They were poised, articulate and witty, relating comical stories of what life was like growing up in the Birrittella family. Highly competitive for sure, they were not so with each other except in a way that was part of a fun-filled, family match-up. Inevitably in time, the children soon were able to beat their parents in sports. These occasions were reason for family celebration. A job well done; the passing of the torch!
In the Crest neighborhood, convincing your kids that it was time to come home was not always an easy job when they were scattered about fabricating games that took them into the woods and side streets. Robin summoned her family to dinner each night in a very unique fashion. She had a professionally delivered whistle that was the envy of the neighborhood…because it really worked. I remember thinking the first time I heard it that there was something about such a deeply masculine, ear-splitting sound that did not match the strikingly gorgeous young mother…..but who could argue with success when the rest of us were roaming the streets aimlessly in search of our offspring.
When Robin was going through her chemotherapy, the Shawl Ministry at Transfiguration Church knitted her a Prayer Shawl. I wanted it to be red. Robin was so spirited and fiery and full of life…so, red it was….knitted in groups of three stitches to represent many of the 3's in Christianity like, faith, hope, charity, all of which typified who she was. The symbolism was not lost on Robin as she wrote in a deeply personal, faith-filled, thank you that shored me up much more than I could have possibly encouraged her. She talked about coming to terms with her diagnosis and remaining optimistic at the same time. As she "wrapped herself in her shawl by her favorite bay window" she wrote that she felt "so totally at peace with life." I remembered thinking that this must be "the peace that passes all understanding" that is written about in the Bible, because I certainly couldn't understand it, and if she could find peace in the midst of this struggle, it must have been God-given.
Occasionally even the most well-meaning people, in an attempt to comfort the family, will say the oddest things. Several of my aunts and uncles, including both my parents, passed away during the Christmas season. More than one person has said to me, "God must have loved (your family member) very much to take them home at Christmas." Or another favorite, "It was God's will." Intended to comfort but ridiculous nonetheless!  I have taken care of children who were born with cancer. God didn't will those tragedies any more than He willed the floods in Pakistan or the war in Iraq or Robin Birrittella's death. Tragedies for sure, but willed by God? I don't think so!   It is the Christian belief that we will meet Robin again in heaven. I know that, as do the Birrittellas. I also know that she will live on in her children and in her good works. I would like to take that thought a step
further. If every person who  was a part of her life and who took time out from their hectic schedules to attend her wake and funeral learned something in the process that changed them for the better, think of how much goodness could flow from this tragedy. There are always opportunities presented to us to create good from evil. Some call it making lemonade out of lemons. Some call it "meaningful change" or "grace in action." Robin taught us how to stare suffering in the face and find peace and happiness in the midst of tragedy. She also practiced "mindfulness" or living in the moment, turned her cell phone off, and put her busy life behind her to focus on loving relationships. There are lessons in her shortened life for all of us.
Armed with the assuredness their mother and father raised them to have, Robin's children said at the funeral, "We'll be OK"… and they will… and so will we…  because we are a strong and loving community. It may take a village to raise a family, but it also takes a village to heal a family…and Tarrytown  has begun the process of healing and change.   ©