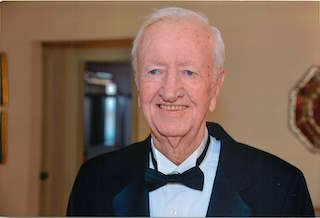 John Henry Calvey, known to his many friends as Jack, died April 7, 2017 in Duxbury, VT at the age of 90 years. He was born October 15, 1926 in Millbrook, NY to James and Mary (Murphy) Calvey. He grew up in Astoria with his loving sisters, Maureen and Brenda.  Jack attended St. Margaret Mary School with life-long friend Joe Ryan.
Jack enlisted in the United States Navy at age 17 and served aboard the USS Myles C Fox, a destroyer that escorted the legendary USS Indianapolis and docked in Tokyo Bay in time for the young sailor to watch the Japanese surrender at the end of WWII.
Upon returning home, Jack entered Fordham University and met friends who introduced him to the love of his live, his wife, Frances Santangelo.  He graduated from Fordham University with a B.S. degree and excelled in the manufacturing field his entire life. After a stint in Emporium, PA, Jack moved to Tarrytown, NY and had a successful career as a salesman with Burack Plumbing, River Journal and Harnik Jewelers.
Jack was a proud member and lieutenant in the Tarrytown Ambulance Corps, a parishioner at Transfiguration Church, and belonged to The Lyceum Club and Tarry Crest Swim and Tennis Club. He was a longtime Tarrytown Village Republican committeeman and served one term as an elected trustee of his beloved Village. He also did advance work for President Richard Nixon during a campaign visit to Westchester County.
He had a great many friends throughout the area and remained close to them for many years, names well known locally . . . Booth, Burns, Bunt, Young, Chillemi, Campbell, Johnston, Wheatly, Jones, McGovern, Plunkett, Fallon, Brown, Dealey, Walsh, Walpuck, McManus and others. He was a regular at festivities in the community until recently.  After his wife died in 2002, Jack met up with a new set of younger friends who avidly listened to his WWII and political stories and laughed at his jokes over morning coffee and pancakes. He continued to work at the jewelry store well past his 90th birthday.
Jack loved people and frequently had a mischievous grin and a twinkle in his beautiful blue eyes.  He liked to give folks a hard time especially if they dished it out in return.  He often greeted you with, "Hello there!" in a melodious baritone. Jack Calvey valued integrity and decorum, but he was never afraid to speak his mind.  He will be missed.  He is survived by his sister, Maureen Curran, and her sons – Patrick and Terence, their spouses and children; the children of his deceased sister, Brenda Derby – Ann-Marie, Susan, Michael, Jimmy, Gerard, and Mary, their spouses and children; Frank Santangelo and his relatives; Frances Calvey's nieces and nephews including the Ponzios and their spouses and children; close friends –  the McCarthys, Sioss, Foleys, Reeves, Sheridans, Decristafaros and many others.