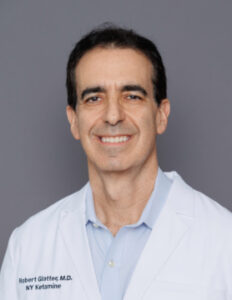 NY Ketamine Infusions is pleased to announce that we've opened up our third location in Westchester County and are accepting new patients. With a successful track record of treating more than 5,000 patients in our two current locations in NYC and Long Island, we have more clinical experience than any other ketamine center in the world.  We offer personalized and private care to those suffering from depression, PTSD, anxiety, and other mood disorders.
In 2012, Dr. Glen Brooks founded NYKI in New York City as one of the world's first therapy centers dedicated exclusively to providing this breakthrough therapy. Dr. Brooks is generally recognized as the nation's leading practitioner of ketamine infusion therapy and chronic pain. He is a board-certified anesthesiologist, completed his training at Harvard's Brigham and Women's Hospital and taught at Yale University School of Medicine.
In multiple studies performed over the past 20 years by researchers at Yale University, Mt. Sinai, the National Institute of Mental Health and other major institutions, IV ketamine has proven to be a highly effective treatment. Unlike other antidepressant medications which can take 6 to 8 weeks to take effect if they work at all, intravenous ketamine can work much more quickly, and without difficult side effects. NYKI has been helping patients who have not responded to either traditional psychiatric medications or psychotherapy—often with tremendous, life-changing results.
At NYKI, we are very focused on outcomes and are proud to report that 84% of our patients with treatment-resistant depression experienced noteworthy or significant improvement in their symptoms after undergoing ketamine therapy according to our OutcomeMD patient survey data.
The Westchester clinic located at 222 Westchester Ave. in West Harrison will be led by Robert Glatter, MD who has trained extensively with Dr. Brooks at the New York City location. With over 20 years of experience administering ketamine as an Emergency Medicine physician at Lenox Hill Hospital in New York City, Dr. Glatter brings a wealth of knowledge and expertise. Not only is Dr. Glatter an expert in his field, but he is also a sought-after commentator on important breakthroughs in depression treatment and healthcare. He serves on the Editorial Board of Medscape Emergency Medicine and is a longstanding contributor to Forbes Healthcare and Innovation. He is frequently called upon by major media organizations, including CBS News, ABC News, NBC News, The Today Show, and WebMD, to provide medical commentary on a variety of topics.
For more information or to contact us for a free consultation:
For more information or to contact us for a free consultation: