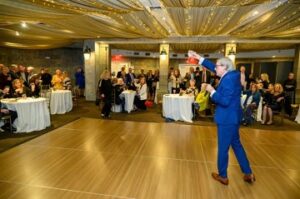 On Thursday, September 28, 2023, the Family YMCA at Tarrytown hosted its 4th annual Circle of Caring Fundraiser at Abigail Kirsch at Tappan Hill Mansion. This year over 130 attendees celebrated the YMCA and the event honorees and helped raise over $90,000. This financial support will be used to help the YMCA continue its mission to provide childcare, enrichment and fitness programming to the adults and families they serve.
The Y honored Former Deputy County Executive Kevin Plunkett and Rosemary Plunkett with the Laurence S. Rockefeller Award for their many years of dedicated service to the Rivertowns. Lucy Waletsky Rockefeller, daughter of Laurence S. Rockefeller, presented the award to the honorees with Family YMCA at Tarrytown Chief Volunteer Officer Michael Goldrick, President of Putnam County Savings Bank. Senator Andrea Stewart-Cousins surprised her good friends, the Plunketts, by presenting them with a Proclamation recognizing their service to the community.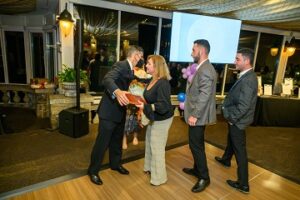 New this year, the YMCA gave its first ever Len Andrew Spirit Of Service Award to the Rossi Family for their generous support of the Y. The award commemorates Len Andrew, a former Y Board Member and past Board Chair who was involved with the Y for over 30 years and passed away in 2021. Patty Rossi with her sons Michael and Matthew accepted the award, which was introduced by Y Board Member Richard Klein of Klein Greco & Associates.
"Not only did we have a great turnout for the event but, with 15 sponsors showing their support of the Y prior to the fundraiser, we knew this would be a great success," said the Family YMCA at Tarrytown's Chief Executive Officer Gerry Riera. The overwhelming support for the Y was also evident during our Paddle Raise in which Y Board Member Bruce Campbell, serving as Master of Ceremonies, engaged the crowd to raise their paddles for over $31,000.
Event sponsors included: PCSB Community Foundation; DMP Group; Cuddy & Feder LLC; Klein Greco & Associates, LLP; Jenny & Kiran Batheja; Northwell Health Foundation/Phelps Hospital; Peroni Building Company; Hudson Hill Partners; Construction Industry Council of Westchester and Hudson Valley Inc.; Harris Beach Attorneys at Law; Flagstar Bank – The Mooney Family; Jill & Gerry Riera; Bleakley Platt & Schmidt, LLP; and Albert Palancia Insurance Agency, Inc. The Wildey Group, the Y's new landlord for our Early Learning Center, was also a sponsor.  The Early Learning Center, located at 139 Wildey Street in Tarrytown is set to open soon.
For more information or to make a donation, contact Lesa Dalton, Associate Executive Director and Y Circle of Caring Chair 2023 at  lesad@ymcatarrytown.org or click HERE.