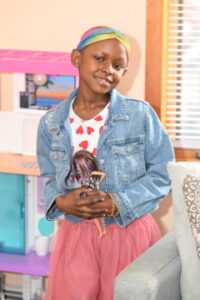 Stop & Shop kicked off its annual 'Help Cure Childhood Cancer' campaign. From March 3 – April 2, Stop & Shop customers in the tri-state area will be able to support MSK Kids, the pediatric program at Memorial Sloan Kettering Cancer Center (MSK). The annual fundraiser, which celebrates its 22nd anniversary this year, raises money to support pediatric cancer care, treatment, and research. Stop & Shop has donated more than $28 million to MSK Kids since the partnership began more than two decades ago. It has supported numerous initiatives not only impacting children and families treated at MSK Kids, but also across the globe through development of cell-based therapies and other innovative, life-saving treatments.
One of the most recognizable aspects of the campaign is the in-store signage that highlights patient ambassadors – local children ages 3-15 who are being or have been treated at MSK Kids and have benefited from donations from companies like Stop & Shop.
The year's ambassadors are seven-year-old Madison of Cortlandt Manor, NY, and nine-year-old Freja of Fair Haven, NJ.
Last September, seven-year-old Madison was diagnosed with Rhabdomyosarcoma, a rare children's cancer, that affects the muscles. Her first reaction was to ask if it was the same kind of cancer adults get, to which the doctor replied, "no." She was content with that answer and took her diagnosis in stride. On the car ride home, she sang nice and loud to Fight Song by Rachel Platten.
Madison's energy and positive outlook during some of the most challenging times is a testament to who she is. After a successful surgery, Madison underwent chemotherapy. As her hair began to fall out, she shaved her head and immediately called her grandpa to tell him that they were now twins.
Stop & Shop's Help Cure Childhood Cancer campaign will run in all New York, New Jersey and Southern Connecticut stores and shoppers can donate at checkout by rounding up their total to the nearest dollar or by donating an additional $1, $3, or $5, with 100% of proceeds benefiting MSK Kids.
"Every year, we look forward to our customers' and associates' participation in helping us raise funds for pediatric cancer research and care," said Stop & Shop President, Gordon Reid. "Helping in the fight against pediatric cancer is a key pillar of giving for Stop & Shop, and we take immense pride in supporting the life changing work at Memorial Sloan Kettering Cancer Center."
MSK Kids is dedicated to all children, young adults, and families facing childhood cancer. With specialized expertise and care focused on the individual child, more families turn to MSK Kids for cancer care than any other hospital in the United States. And as pioneers in research, MSK's physicians and scientists are working to develop and deliver more effective strategies to prevent, treat and cure childhood cancer.
"On behalf of all of us at MSK Kids, I thank Stop & Shop for its unwavering commitment to pediatric cancer research and care," said Andrew Kung, MD, PhD, Chair of the Department of Pediatrics at Memorial Sloan Kettering Cancer Center. "The dedication and generosity of the entire Stop & Shop community provides the resources necessary for our physicians and scientists to work towards better treatment options for our youngest patients. We are so proud to be Stop & Shop's partner in this annual campaign, bringing hope and better outcomes to the families we serve."