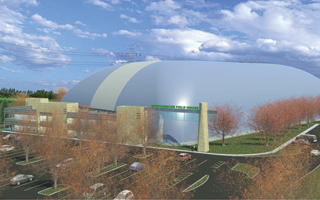 While voting in the Presidential Election on Tuesday, November 6th the electorate in the Town of Greenburgh turned their ballots over and overwhelmingly approved Town Proposition 1. The passage of this proposition allows Greenburgh to lease the property on Dobbs Ferry Road (formerly home to Frank's Nursery) to the Tarrytown-based company, Game On 365 for the purpose of building an indoor sports complex. "We knew the support was there from the beginning," says Game On 365 Managing Partner Vito Galasso. "What surprised me was how big a margin we did win by and how many people actually cast a ballot for a referendum."
The unofficial final tally with 82% of districts reporting was 7,473 to 3,863, a 66% to 34% affirmation for the project's organizers who didn't even know they were going to be on the ballot until a few short months before the election. "It didn't have to [end up on the ballot]," says Galasso. "The Town Board agreed to the contract unanimously. We did not expect to go on the ballot. After we negotiated with the town, we found out we were going to be on the ballot."
Game On 365 started out as a group of soccer parents, mostly from AYSO Tarrytown, who wanted a place for their kids to play during the winter. Teaming up with a partner who runs two similar complexes in New Jersey, they were ready when the opportunity to lease the property on Dobbs Ferry Road was advertised. Game On 365 submitted a strong RFP for a 15-year lease of the property and won the bid.  The fact that theirs was the only RFP to be submitted was also a factor.
Their plan calls for the construction of the Westchester Field House, a year-round, indoor, multi-sports facility that will contain 80,000 square feet of turf and 14,000 square feet of hard court playing area. The Westchester Field House will be home for soccer, lacrosse, football, baseball and field hockey on the turf, as well as volleyball and basketball on the hard court surface. A walking track will circle the entire field. Access to the complex will be via a membership fee (though Greenburgh seniors will be given free access to the walking track) and Game On 365 is already in talks with how they can work with the Greenburgh Community Center to offer programs and specials for their constituents.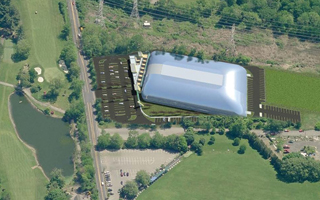 The property will be situated right off the Sprain Brook Parkway, one exit south of Interstate 287, in a neighborhood that is already home to Rumbrook Park's tennis and basket ball courts, the Elmwood Country Club, and the Westchester Driving Range. "You have a little grouping there that's all recreation-based," says Galasso. "[The property] has always been ideal for recreation, and as we've gone through this project we've heard from so many people, that this is a perfect fit."
From the beginning, however, strong opposition was reported by local media as some residents voiced concerns over the project. However, Galasso says the media coverage on the size of the opposition was misleading. "These were the same players I'd been seeing for the last two years at the town hall," he says. "On TV it looks like this never-ending stream of people bashing the project… there were 12 people."  In the end, it was this vocal opposition that convinced Greenburgh Town Supervisor Paul Fiener to put the project on the ballot and let the voters decide.
Another hurdle for Game On 365 to clear, however, is a lawsuit which has been brought against the Town of Greenburgh and Game On 365 by Elm Street Sports Group, whose own indoor sports facility, opened this past September. The lawsuit claims that a County law requires Greenburgh to sell the land, and not lease it. Supervisor Feiner says that New York State law allows the Town to lease the property, and that supersedes the County's law.
Now that Town Proposition 1 has passed, the project is free to charge forward. Galasso estimates that it will take about six months for Game On 365 to be approved by the Greenburgh Planning Board, undergo the State Environmental Quality Review Act (SEQRA) process, and author a comprehensive traffic study. "If that were done in six months, you could potentially start building next spring," he says. "It wouldn't take long to construct. We could actually be open next winter, 12-13 months from today."