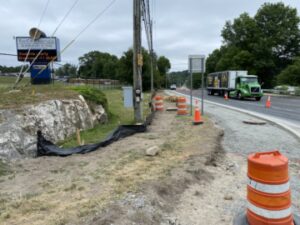 Anyone who drives Route 6 in Cortlandt between Peekskill and Yorktown has probably experienced the frustration of catching all the red lights and feeling like you're the victim of some cheeky civil engineering prank. Well, get ready to break open the Champagne because this popular roadway is getting a facelift, thanks in part to a New York State grant that was sponsored by a past representative of New York's 19th congressional district, John Hall, who served from 2007-2011.   
As a founding member of the band Orleans who continues to perform with them, his legacy in music and public service live on. As Hall is touring the states this summer, the grant money he sought more than a decade ago is being used to help pay for a beautification project in the Town of Cortlandt. 
To smooth out traffic patterns, the New York State Department of Transportation (DOT) is resurfacing and enhancing intersections along a 2.2-mile stretch of U.S. Route 6, between Lexington Avenue in Mohegan Lake (Town of Yorktown) and Conklin Avenue in Cortlandt, on the Peekskill border. The quick drive or light walk is a heavily trafficked business district filled with shopping centers, restaurants, auto dealers, gas stations, and everything locals need to take care of their weekend errands. 
The project includes installing Non-Invasive Video Detection cameras at six intersections. These smart cameras – to be situated at Conklin Avenue, Jerome Drive, Van Cortlandtville Elementary School, Cortlandt Town Center, Baker Street and Lexington Avenue — detect and count vehicles to help calibrate the green-signal time.   
A new sidewalk will be poured along Route 6 from Westbrook Drive to the entrance of Van Cortlandtville Elementary School. The project will ease the flow of this passage on Route 6. The full length of the road rolls across 77-plus miles of land in New York State. In our region, Route 6 is a popular scenic roadway that crosses the Bear Mountain Bridge and runs through Harriman State Park just across the river.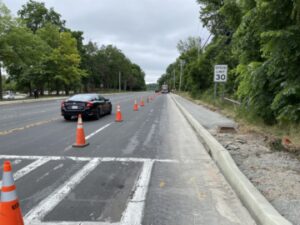 Corltandt's Department of Technical Services Director Mike Preziosi said when Cortlandt Crossing shopping center was completed in 2018, the town implemented numerous traffic and safety improvements between Lexington and Locust Avenues. He explained that this "included the installation of 'adaptive' traffic signals, which determine which lights should be red and which should be green by processing data and adjusting signal timing. It improves progression through a corridor, reducing delays and improving level of service."  
The new enhancements expand on the adaptive light technology that now will extend all the way to Conklin Avenue. Preziosi is excited about the expansion: "The ultimate goal is you progress through a stretch of road without hitting traffic lights. This allows for faster traffic flow with more green lights." It is intended to create a better experience for drivers and pedestrians alike.  
"Walkability" has become a popular byword in any discussion about a desirable quality of life in the suburbs and exurbs. Cortlandt's sidewalk and traffic light upgrades are designed to make a local main thoroughfare more manageable and tolerable for anyone who relies on it to efficiently get them from point A to B.  
With new pedestrian signals at two intersections, street crossings should be made safer and easier. To accommodate everyone, sidewalks and curb ramps conforming to the Americans with Disabilities Act (ADA) will help ensure that access is wide enough and meets up-to-date safety codes.