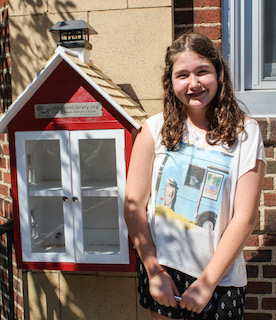 Middle Schooler Creates a Little Free Library
Seventh-grader Sydney Schulz recently unveiled the newest addition to facade of Winfield Morse Elementary School in Sleepy Hollow – a Little Free Library. Situated on the front steps, this mini-schoolhouse contains dozens of books geared to readers in grades K-8. Anyone is free to leave books or borrow ones currently available.
Little Free Library is an international organization made up of people from all over the world who set up these boxes and fill them with books for all to enjoy. Sydney, who is an avid reader, created the project as her Bat Mitzvah project. After learning about the organization, she approached the school district to gain permission to set one up outside Morse school. Principal Thomas Holland and Director of School Facilities Peter Quartironi loved the idea and suggested that Sydney include a reading bench. Sydney then took to raising the money that would be needed to purchase a bench. Then, after raising $260, she was informed the District would purchase the bench itself, so Sydney donated the money raised to the Foundation for the Public Schools of the Tarrytowns to fund literacy-related projects.
"I hope that generations of students who come to the Morse School, and others in the community, will be able to see and use my box to grow their love and appreciation for reading," said Sydney, who, along with her family, will serve as stewards of the new library and ensure it remains well-stocked with books.
Science Teacher Presents Findings at National Science Convention
Sleepy Hollow High School AP Biology teacher Leana Peltier travelled to Nashville, Tennessee to speak at the National Science Teacher's Convention on April 1. She presented her research addressing the issue of designing inquiry-based lessons for elementary school science classes.
As part of her research, Peltier met with a team of three elementary teachers bi-weekly for five months. At each meeting she taught a specific skill and the remainder of the time was dedicated to each teacher developing specific lessons targeting the skill. Peltier measured the growth of her fellow colleagues and presented it at the convention. She found that the teachers' confidence grew in using inquiry-style learning, their lessons became more student-centered, and they felt students had a deeper understanding of what it means to think like a scientist.
Peltier's research came out of her participation over the past two years in the Mercy College Wipro Science Education Fellowship program, dedicated to developing teacher leaders through encouraging collaboration among teachers from a variety of grade levels and school districts.
Student Musicians Receive Perfect Scores
On May 21 and 22, 110 students of the Public Schools of the Tarrytowns in grades 4-12 participated in the New York State School Music Association (NYSSMA) Solo Festival. While all the students did well, junior Peter Moriarty and sophomore Patrick Leavy excelled, receiving a perfect score of 100 on their All-State Audition.
Moriarty received a perfect score for his work as a bass vocalist, and Leavy received a perfect score for his work as an upright bass player. With their perfect scores, both students are eligible for selection to NYSSMA All-State Ensembles in November.