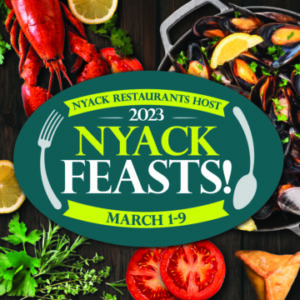 Foodies, friends, and families hankering for good food will find great eats and great values in Nyack during the village's third annual Nyack Feasts! restaurant event.
Nyack Feasts 2023 runs from Wednesday, March 1 through Thursday, March 9 for brunch, lunch, dinner and in-betweens, matching a variety of appetites and tastes with a wide array of hosting establishments, cuisines and culinary styles.
The event is sponsored by Audi of Nyack, in partnership with an enthusiastic contingent of local organizations and individuals.
During this nine-day culinary celebration, diners can choose formats and flavors from 30 participating restaurants offering a variety of options — special menus at special prices, discounts of up to 50% for on-premises dining, pick-ups and special items, plus free giveaways to accompany orders.
What's more, visitors are invited to "pair your fare" with specials offered by 20 participating retail shops and personal services businesses – a great way to combine good food with a day of exploration in Nyack's one square mile of eclectic, one-of-a-kind businesses.
A full listing of participating restaurants, shops and service businesses – with details on specific offerings — is available on the Visit Nyack website at Nyack Feasts 2023.
"Variety is the spice of Nyack," said event organizer Mark Davidoff, director of Rockland Community College Hospitality & Culinary Arts Center. "Feasts is about Nyack's rich variety of cuisines, but it's also about freedom — a departure from the cookie-cutter 'restaurant week' approach where every business is required to deliver basically the same offer in a traditional full-service dining way."
"Nyack is not a one-size-fits-all community," added Davidoff. "Our restaurants are all about creativity and multi-cultural cuisines. In addition to avoiding the standard one-offer restaurant week approach, we're including any local purveyors of good food who want to participate. Each participating establishment crafts its own offer and special brand of culinary magic.That's what Nyack is all about."
The pairings…
Another unique feature of Feasts is the connection with Nyack's retailers and personal service establishments. Diners are encouraged to 'pair your fare' with the many additional experiences available in the village at participating businesses. The full listing of special deals is available on the Visit Nyack website at Nyack Feasts 2023.
"Nyack is a treasure trove for the curious and adventurous," said Roger Cohen, President, Nyack Chamber of Commerce. "Browsing our one-of-a-kind shops and service businesses is a great way to combine lunch or dinner with a unique Nyack 'discovery' experience."
"Nyack Feasts is a community event, and an expression of what our community is about," said Don Hammond, Mayor, Village of Nyack. "Great food, of course, but much more."