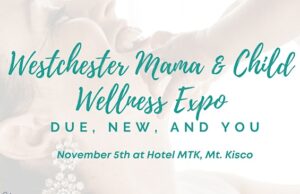 Rock-a-Bye Baby Sleep and Macaroni KID Armonk – Chappaqua – Mount Kisco – Pleasantville present the inaugural Westchester Mama & Child Wellness Expo: Due, New, and YOU! We hope you will join us on Sunday, November 5th from 12 p.m. – 4 p.m. at Hotel MTK, One Pat Reilly Way, Mount Kisco, New York.
Ticket Information: Westchester Mama & Child Wellness Expo: Due, New, and You! Tickets, Sun, Nov 5, 2023 at 12:00 PM | Eventbrite
Our Mission The Westchester Mama & Child Wellness Expo aims to create bonds of support for the mental and physical health of family systems. This one-day, large-scale event will provide hands-on resources and connection-building opportunities between parents, perinatal professionals, pediatric service providers, clinicians, and holistic care workers in the health and wellness space. A portion of the funds will benefit Open Door Family Medical Center and The Ronald McDonald House of the Greater Hudson Valley.
Why This Matters Parents play a critical role in their children's brain growth and development, and it's no secret that caregiving is an extremely demanding job. Parents with networks of support are better equipped to help their children thrive, and better able to show up—emotionally and physically—as the parent they wish to be. This inclusive event supports all family constructs through safe and intentional spaces for conversation and connection. Our participants will feel cared for and supported as they navigate their parenthood journey.
What Guests Can Expect Throughout the Wellness Expo, participants will have the opportunity to speak with experts whose specialties span a variety of topics, including: maternal mental health, lactation support, pediatric sleep support, physical therapy, occupational therapy, speech and feeding, prenatal/postnatal yoga, pelvic floor therapy, breathwork, infant massage, postpartum care, nutrition and fitness, potty training, parent coaching, sensory processing, and more. 
Guests will meet with experts in our Vendor Village, presented by Hudson Milk + Market, to engage in 1:1 conversations with clinicians, perinatal professionals, and pediatric service providers, and participate in informal question & answer sessions.
Exhibitors in the Vendor Village include:
The Motherhood Center; The Parent Collective; Body4Brain; NUR Space; Rock-a-Bye Baby Sleep; Mama Bear, IBCLC; Westchester Birth; Elizabeth Bretz, LCSW; Blue Door Physical Therapy; Maria Sanders, Parent Coach; C3 Chiro; Prana Prenatal Yoga; Bella Bambinos; Lean on Me Westchester Doula; Birth Ambassador; Extra Lucky Moms; Hershey Therapy Practice; Per Se Photography; oHHo Botanicals; Cucina alla Fra; Peanut Moms of Westchester; The Potty Mommy; Tree of Life Healing Arts; Megahan Bryce Center for Health & Wellness; My Pedi OT; Brownstone Surrogacy; Westchester MYO Services; Shoshanna Rome Counseling; Optimal Health Chiropractic; Little Love Lactation; Integrative Orofacial Myofunctional Therapy LLC; Katie Rivera of Style Outside the City; Pleasantville Therapy; Katie Rivera of Style Outside the City; Hudson Valley Tongue Tie Center; Elmsford Chiropractic PLLC; New Life Doula Services.
The Zen Den, supported by East Coast Sports and Fitness, features exhibitors and holistic providers with a focus on self-care and wellness. Guests can shop local goods, as well as engage in small group conversations. Guests will also have the opportunity to learn from, and participate in, demos or add-on services from the following providers:
Essie Cohen Makeup; Collier's Candle Co.; Lucia Luppino; Luminous by Lucia; Brooklyn Embodied; Spreading Roots Acupuncture; MomBaud; Perfect Pour Coffee; Melita's Home Furnishings; Bella Maiya Day Spa; Rockstarter Organics; Juice Plus; RooNEE Tents and Events; WonderfullyMade Fertility; ARM Nutrition; Repose Aromatics and Botanicals; BLISSful Birth; DermisEssential Skincare; and Wings of Resilience Healing.
Our Kids' Zone, hosted by The Indy Lab, a cooperative school and parenting center in Elmsford, will engage children through active play, sensory exploration, and a full program of activities. The Kids' Zone features a variety of other children focused resources and programming, such as:
MacaroniKID; World Cup Romperee Room; iCAMP; East Coast Sports & Fitness – Zumbini by Gaby; Ramblin' Dan's Freewheelin' Band; Making Faces Parties; NeverStopMoving 365; Gabriella Gizzo SLP and author; Everyday Parenting Psychology; Happy in Color; tumtum USA; Sprinkled Baubles; Briarcliff Nursery School, Hi-Five Metro Sports; and ISR Westchester. 
Throughout the day, our Speaker Series, brought to us by RMA of Westchester, will feature a rotation of expert-led breakout sessions on key topics such as maternal mental health and PMADs, sensory processing and emotional regulation, craniosacral support, navigating infertility, loss, and illness, and collaborative problem solving. 
Additionally, for increased audience interaction as well as targeted 1:1 and small group engagement, Fireside Chats will take place at scheduled times on topics such as Reproductive Health, Advocating for Yourself in the Birthing Room, Nutrition Needs for Moms, Tongue Ties: Your Questions Answered, Sexual Health and Intimacy through Parenthood and Beyond; Style as Self-Expression; and life insurance/future planning.
The day will close with an Expert Panel, courtesy of Northwell Hospital, to which guests can submit questions on the theme "Redefining Motherhood: The Importance of Building Community, Finding Support, and Prioritizing Self-Care." Panelists include Paige Bellenbaum, founder and director of The Motherhood Center; Itzel Aguilera, founder of Westchester Blogger Productions; Gal Shyli, founder of Peanut Moms of Westchester; Joyce Havinga, owner of Birth Ambassador; Jessica Hill, founder of The Parent Collective (Westchester); Jess Quarello, co-founder of Extra Lucky Moms; Danielle Brody, founder of Danielle Brody Wellness; Dr. Shara Brofman, PsyD; Annie Gomez, school board member and community advocate; Karine Patiño (Mt. Kisco Board trustee).
Sprinkled Baubles and Bella Maiya Day Spa have also provided sponsorship support in making this day possible for families. 
Giveaways will take place throughout the day, and a complimentary gift bag will be provided to the first 100 guests. Lunch is available for purchase at Hotel MTK's Hub Restaurant from 12 p.m. – 2 p.m.
For more information: www.rockabyebabysleep.com/mama-child-wellness-expo