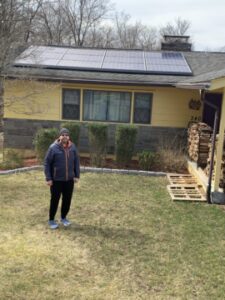 There's a new push in Peekskill to get greener, and it's being led by a community solar initiative called Ecological Citizen's Project (see story HERE). Only about 4% of the homes in the United States run on solar energy, according to the U.S. Energy Information Administration, but initiatives like this are trying to get that number a lot higher. And with gas and oil prices remaining high, and the costs to install solar getting lower, people like Angelo Santiago think there's no time like the present to start using cleaner, greener energy sources. 
Tesla is one of the major players in the residential solar market. That company known for its cool electric cars and flamboyant billionaire owner Elon Musk also has roughly 500,000 solar systems in American homes. One of those homes is Santiago's three-bedroom, two-bathroom house on Montross Avenue in Peekskill. He's lived there for 18 years and went solar in 2015. Santiago says he likes "cleaning up the environment, doing something innovative, and being ahead of the curve with the latest technology."
Santiago originally leased his panels from Solar City, but after Tesla bought that company, he became one of Tesla's half-million residential customers. When he was shopping for solar, he was happy that he could lease the panels, so he didn't have any startup costs. 
*** 
He also owns a Tesla Powerwall that provides backup electricity in the event of an outage. The Powerwall is essentially two backup batteries in his garage, each about the size of a 55-inch flat screen TV, and just as thin. Santiago says the Powerwall is inobtrusive, and doesn't burn fossil fuels like a loud, large generator that traditional power customers use during outages. He got the Powerwall a couple of years ago, and hasn't had a major outage since, but he's ready when it happens. 
Santiago says he's very happy with the service Tesla provides, and there are no maintenance costs or "extras" that get tacked onto his monthly bill. (An exception is if a roof repair requires one or more solar panels to be removed and re-installed, in which case Tesla charges a flat $500 fee.)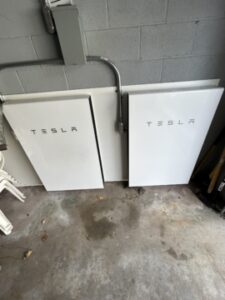 Angelo also loves the cool Tesla app that lets him monitor his usage, track how much power he's generating, and even keep an eye on the angles of the sun so he knows when it's providing the most juice. He only pays about $20 a month during the winter, and about $160 a month for the six warmer months – less than what he used to pay. But since he bought the Powerwall for about $15,000, and chose to finance it, that adds about $165 a month to his expenses.