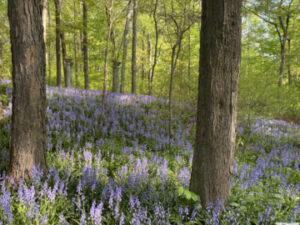 If you enjoy spending time visiting gardens, perhaps you already know about Open Days at the Garden Conservancy? If you don't, welcome to a wonderful opportunity to peek inside some of the best private gardens across the nation, open rarely, offering visions of passionate individual taste.  
Each year since 1995 the Conservancy's Open Days program has allowed thousands of visitors to explore beautiful spaces not normally open to the public, in 41 states. And for Westchester residents, Sunday, April 30, offers the chance to glimpse an outstanding example, the Vivian and Ed Merrin garden in Cortlandt Manor. 
Initially installed by landscape architect Patrick Chassé, this garden was the 32-year passion of owner Ed Merrin, who died in 2020. "Ed was out on his golf cart every day, into his 90s, making decisions on what to plant when, where and how," says Kula Giakoumidis Spellman, the garden's property manager and director of horticulture. 
Merrin, son of a New York jeweler, made a career dealing in art, notably ancient and pre-Columbian pieces. As a philanthropist, he became involved with several institutions, including the New York Botanical Gardens where he began to develop his interest in and knowledge of horticulture. When one of his four children encouraged him to buy a country house, he found the land in Corlandt Manor, and in the 1980s the garden began. "He learned about plants of all kinds, tropical, exotic, and made friends with other gardeners like Martha Stewart. But he developed his own style, preferring large statements, often using just one or two colors," comments son Jeremy Merrin. 
Within an 80-100-acre property, of which 30 acres are deer-fenced, the Merrin garden offers five acres of tended space adjacent to a lake. It's mostly woodland, which, though gorgeous all year round, is at its most ravishing in the spring. "Ed particularly liked rhododendrons, magnolias and azaleas, which are at their peak in spring, along with the bluebells, hellebores, primulas and mountain laurels," Spellman explains.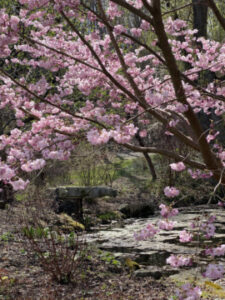 This is a plantsman's garden, a collector's garden. "Ed wanted one of everything – different, unusual, rare things," Spellman adds. It's also a stroll garden, crisscrossed with paths across undulating land. In addition, there are four greenhouses housing the tropical collection, plants from which are rotated into the outdoor spaces, and a three-quarter-acre vegetable garden. Here, in cedar raised beds, "there's a little bit of everything, which was Ed's motto", Spellman says. Okra, Brussels sprouts, tropical spinach, 18 types of large tomatoes and another 18 types of cherry tomatoes – all the produce was used to feed family and friends who gathered there each weekend. 
There's also a stumpery. "We lost trees during Hurricane Sandy in 2012," adds Jeremy Merrin. "My father found the stumps very interesting and decided to arrange them, then put plants among them."  
This is a world class garden, developed by an owner with a strong aesthetic for creating beauty. Featured in several books, the Merrin garden is a delight that will endure. As Jeremy Merrin says, "We love this place, and we're committed to keeping and developing its special vision." 
gardenconservancy.org/open-days/garden-directory/garden-of-vivian-ed-merrin 
All photos by Kiriakoula Spellma