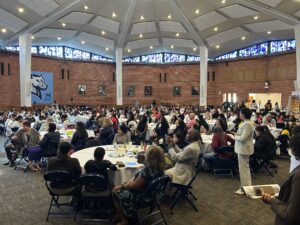 On Saturday, October 28, the Westchester County Youth Bureau hosted the inaugural Youth MedTech Conference with over 250 middle school and high school students at Mercy University's Westchester campus in Dobbs Ferry. This event, held in partnership with Sister to Sister International and Mercy University STEP Program, was designed to encourage the exploration of high growth industries that combine medicine and technology.
Students participated in workshops and heard from a panel of diverse professionals, some of which are key in top institutions within Westchester – Regeneron, St. John's Riverside Hospital, Maria Fareri Children's Hospital at Westchester Medical Center, Aetna (A CVS Company), Westchester County Community College, Jack and Jill of America – Mid Hudson Valley Chapter and more.
County Executive George Latimer said: "Technology is a driving force for much of what we do today. We are grateful to the Westchester County Youth Bureau and its partners for thinking about the futures of our youth and preparing them for careers that go beyond what we all know concerning Medicine and Technology. Youth are incredibly innovative and inquisitive and programs like what we have seen today support their interests and capabilities."
Deputy County Executive Ken Jenkins attended the event and gave opening greetings to those in attendance.
Youth Bureau Executive Director Dr. DaMia Harris-Madden said: "I am constantly inspired by today's youth and their desire to solve complex problems. The concept of the Youth MedTech Conference came out of my travels throughout the County, talking to future leaders about their interests in bioengineering, research and development, software designs, along with many other healthcare and technology careers. The intersection of technology and medicine, also known as MedTech, is exciting and this event had excellent presenters who have brought their expertise and passion out on a Saturday to encourage students to remain steadfast to their future aspirations. The Bureau enlisted partnership with many, the main being the Mercy University STEP program and Sister to Sister International, as both organizations have supported hundreds youths in their interests in STEM careers."
In the opening portion of the program, students were addressed by elected officials and specialists who spoke to the economic opportunities within Med-tech career pathways. Amongst the opening panelists were Orane Barrett, CEO of Kool Nerd Connect, Bridget Gibbons, Westchester County Director of Economic Development and Dr. Chiatogu Onyewu, Sr. Director of Genetics Medicine and operations at Regeneron. Workshops included topics such as:
Success Mindset: Creating a career vs taking a job
How to build your STEM Career Bridge
The Intersection of Medicine, Equity and Technology
RAD Medicine: Unpacking Radiology Careers
The intersection of Passion, Drive and Science
Attacking Diseases through DNA Sequencing, AI and Technology
Med Tech: Past, Present and Future trends in Genetics
What is Children's Environmental Health and How Can It Fit into Your Career as a Health Professional?
Helping Hands: MedTech Careers That Care and Pathways at Mercy University
For future information on upcoming Westchester county Youth Bureau sponsored events, please contact Vanessa Zahran at vzah@westchestercountyny.gov.