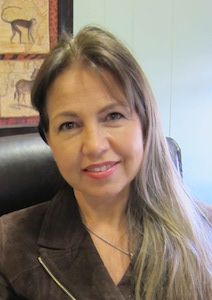 The Transfiguration School in Tarrytown welcomes their new Principal, GinaMarie Fonte. Ms. Fonte comes to Transfiguration with more than 15 years of working as an educator; she is a graduate of St. John's University with a B.A. in English Literature and a M.S. in Early Childhood Education and Teaching Students with Disabilities.  Ms. Fonte is currently finishing her Masters in Administration Education at Fordham, Lincoln Center.
Before joining the Transfiguration family, Ms. Fonte's experience spans from grades Pre-Kindergarten through 8th grade.  She was a middle school teacher with a concentration in Reading, Social Studies and Science at Saint Thomas Aquinas and Our Lady of The Assumption School in the Bronx.  Her leadership skills have been shaped by years as the successful Director of Early Childhood where Ms. Fonte effectively introduced the new UPK program to her former school.
Since September, Ms. Fonte has presented several new programs to increase the already impressive academic test scores.  The focus is on a schoolwide consistent emphasis of implementing Reading Street  that now begins in Kindergarten and continues through 8th grade.  Reading Street supports higher levels of the reading and writing process.  It is fine-tuned to adhere and teach the Common Core Standards.  The school has also increased Right to Intervention (RTI) for students who need additional instruction.
"I am excited to the join the Transfiguration community and continue the mission of providing a Catholic education in a competitive, family-centered and fun environment," said GinaMarie Fonte. "The faculty, students and families are an amazing part of this school and I look forward to working with them to continue to grow our school."
Fonte's strategy is to focus on building strong relationships with parents, students, staff and community partners.  Her focus is on character, education initiatives, and 21st century skills fostering a nurturing, safe environment for children. Transfiguration school is equipped with Smart Boards in every room and a new STEM Lab. It has also undergone renovations to accommodate a new early education floor devoted to the Pre-Kindergarten 3 and Pre-Kindergarten 4 programs.  Classrooms utilize iPads for research projects and students are taught how to safely navigate the Internet for research projects.
Some of the initiatives for service include, monthly schoolwide participation in mission projects such as respect for animals, food pantry collection, donation to Soyapango, El Salvador, collection of hats and mittens for the less fortunate and performing for the senior citizens at their Christmas luncheon, just to name a few.  Beginning this year, the students participate in a "Bucket Filler Program" that promotes social and emotional growth as a solid foundation in our Catholic formation.
Ms. Fonte has introduced engaging and fun activities such as a student pumpkin patch, breakfast with Santa and the Nature Company assembly.  Transfiguration continues to prepare and celebrate Catholic Schools Week (February 1 through February 7)  where the entire student body celebrates their faith with a community  Mass followed by a shared family breakfast. This community event builds friendships in a fun spiritual atmosphere.  Faith is an important building block of the school and the students meet daily for Morning Prayer.   Each grade is recognized with their own special Mass each month wherein students participate as altar servers, readers and gift bearers.
The teachers are the mainstay of Transfiguration School.  They are devoted to providing students with an exceptional education built on the Catholic Faith.  The teachers incorporate inventive ways to combine education with real life events. Most recently, the 6th grade Social Studies class teamed up to compose thank-you letters to WWII veterans. The response from the veterans was uplifting.
It is no surprise that many alumni also send their children to Transfiguration. "Transfiguration is the perfect mix of academic excellence and emotional growth.  We love the welcoming atmosphere and open communication. Our son is so happy at school and that makes us happy," said Erin Cooney Moriarty '86 and her husband Chris, one of the seven legacy families who have continued the tradition of sending their children to Transfiguration.
Families interested in learning more about Transfiguration are invited to attend an Open House during Catholic Schools week, February 1st -7th from 9-11am to meet Ms. Fonte, tour the school and learn how a Transfiguration education will benefit their child.
Situated in historic Tarrytown, and accredited by the Middle States Association of Schools and Colleges and the New York State Department of Education, Transfiguration attracts a diverse group of students from across the lower Hudson Valley.  To learn more visit www.transfigurationschool.org or call (914) 631-3737.