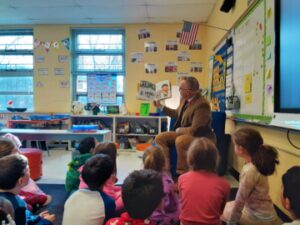 February's theme at Todd Elementary School is kindness and what could be more fitting than celebrating the first day of this month by having so many people generously take their time to read books to Todd students on World Read Aloud Day?
Students throughout the school enjoyed in-person read alouds from staff members, and virtual readings from authors, who read their own books. Students also made reading crowns out of paper and had "buddies" from other classes visit to read to them.
Superintendent Dr. James Kaishian visited Ana Correia's second grade class and read "Strictly No Elephants" to the students.
In the story, a boy wants to take his pet elephant to his pet club meeting but when he sees that there is a sign on the door that says "strictly no elephants," he starts his own pet club where all are welcome.
After reading the book, Kaishian discussed what the book means.
Students picked up on the author's message right away: Always be kind to people. Show empathy. Always include people. Treat others the way you want to be treated.
"It's like the Golden Rule at Todd school," one student said.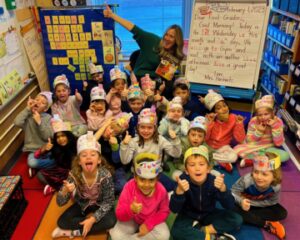 The students and Kaishian agreed that the Golden Rule should be the rule everywhere.
"If everyone was kind to each other, it would be like a kindness epidemic," Kaishian told the students.
"This is the best time I have had all year. I am really impressed with your knowledge, your vocabulary, your ability to listen and follow directions and to understand," he said to the students. "It is really important to be kind to each other and to be inclusive, not exclusive."
Correia was pleased with Kaishian's visit.
"We were so excited to have Dr. Kaishian join us," she said. "The students really enjoyed the story and I was so proud to see them engage in such meaningful conversation."
Other in-person readers included Sam Conlon and Noah Hart from the Tech Crew, Director of Curriculum and Instruction Dr. Jasmine McQuay, Director of Human Resources Laura Neier and Instructional Coach Jessica Bandel.
"We had a fun-filled day of reading," said Principal Jessica Michaelidis. "I would like to thank Ms. Bandel for organizing this event and scheduling the virtual author visits."
"Bringing WRAD to Todd School was a chance for students and members of the Todd community to connect, share stories and celebrate the power of reading aloud," said Bandel. "It was also an opportunity to share a literary tradition with millions around the globe on a day where we celebrate literacy and I look forward to WRAD becoming an annual tradition here at Todd School."