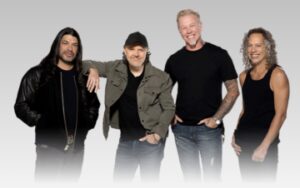 SUNY Westchester Community College has been invited to return for the fourth year in a row of Metallica's foundation, All Within My Hands, multimillion–dollar investment in critical workforce programs at community colleges nationwide. SUNY WCC will use the Metallica Scholars $10,000 funding to support students looking to enter or further their careers in Advanced Manufacturing.
SUNY WCC will focus its efforts on programs that provide students with the opportunity to develop the skills increasingly needed in the regional job market. Students will take coursework in machine learning, CNC, and other National Institute of Metallurgy (NIMS) certified competencies that lead to high-skill, high-wage career pathways in advanced manufacturing. No prior knowledge of manufacturing is necessary.
"The Metallica Scholarship has changed my life," said Stacy Yonnone, Metallica Scholar. "Being a Metallica Scholar at SUNY WCC means more than what the average person thinks. The scholarship makes it more affordable for the everyday working person. It has opened up lots of opportunities, not just in my company. I have tremendously gone up in rank."
"SUNY WCC is honored to be selected by Metallica's All Within My Hands for another year of supporting our students as they prepare for the in-demand careers that are critical for the growth of our regional economy," said Dr. Belinda Miles, President at SUNY Westchester Community College. "Our students are appreciative not just of the financial support this scholarship provides, but the recognition of the value their work brings to their community. This program provides an opportunity that makes a real difference in the lives of our scholars and their families."
The Metallica Scholars Initiative (MSI) was launched in 2019 by Metallica's foundation, All Within My Hands (AWMH), in partnership with the American Association of Community Colleges (AACC). The workforce initiative marks its fifth year with an ambitious expansion into new curricula. MSI now directly supports 42 community colleges across 33 states, and by the end of this year, it will have helped over 6,000 students pursuing careers in the trades. To date, Metallica and AWMH have invested over $6MM in the American workforce.
"The Metallica Scholars Initiative is so important to us because we are seeing results," said Lars Ulrich, co-founder and drummer of Metallica. "Five years in, with the help of community colleges across the country, we are helping people fill these essential jobs which require skills and training. We are so proud and grateful that we can facilitate this program."
"The Metallica Scholars Initiative is a strong and cooperative assemblage of the nation's best community colleges, creating a supportive climate for participants to communicate directly and share best practices," said Peter Delgrosso, AWMH Executive Director. "As a result, our Metallica Scholars leave the program well-trained and confident. Ultimately, the impact is felt locally and nationally as Metallica Scholars enter the workforce and fill in-demand technical positions."
To learn more about the Metallica Scholars Initiative at SUNY Westchester Community College, please visit www.sunywcc.edu/metallica