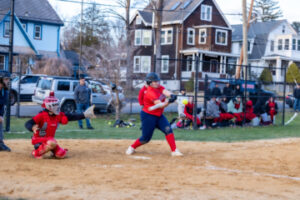 Peekskill High School 
Grade:12

 

Major: Nursing

 

College: To be decided

Parents: Jasmin Rodriguez, Norman Smith 

Sport(s): Peekskill High School softball, first base and outfield; Hudson Valley Tournament Champions 2021 and 2022

 

Outside Activities:

Special Olympics
Coach Ausiello
"Nyiah is the type of student- athlete every coach hopes to have on their team. She has become a natural leader on the field, she knows how to positively motivate her teammates and sets a good example for the underclassman on the team. On the field, she is able to perform in clutch situations and always gives 100% effort in every practice and game. Our success so far this season comes from Nyiah's experience playing at the varsity level and understanding her responsibilities as a leader on the team."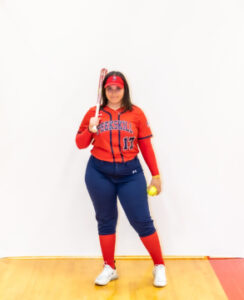 Coach DiCuio
"Nyiah Smith has been a member of the Peekskill Softball Program for all four years of her high school career. Each year, Nyiah has shown steady improvement both in the field and at bat. Nyiah was always willing to play anywhere on the field. She has helped at first base and in the outfield when needed. At the plate, she has turned into a power hitter that has potential to clear the bases with one swing. She always committed herself to being the best player she could. Perhaps, more impressive than her on the field attributes are those that don't show up in the scorebook. Nyiah often played hurt and never complained. She has a team first mentality and is a model of how you would want a teammate to act. She is the type of athlete that makes coaching fun and rewarding.  With her combination of work ethic and great personality, Nyiah is destined to be successful at whatever endeavors she chases in the future." 
Athletic Director Austin Goldberg 
"Watching from afar, I see Nyiah as one of our best leaders and role models for our younger students to follow. She is a bona fide student-athlete, excelling in academics and athletics. I hope to see Nyiah come back and work with our students while working on her Nursing Degree." 
Q+A with Nyiah Smith
River Journal North > At what age did you start playing sports?
Nyiah Smith > In 7th grade, I started playing volleyball and softball.
RJN > How do you motivate yourself?
NS > I set myself goals to become a better player, like going to the batting cage at least two times a week, and for school I set goals like participating in class as much as possible.

RJN > What is the most rewarding part of athletics for you?
NS > Making new friends. Also being a leader in softball, because it can teach the younger athletes on the team how to become a good leader and athlete.  
RJN > Who has inspired you?
NS > My parents encourage me to be a good student and athlete. They also help me set goals for myself, which I really appreciate.