The 12th annual Rivertowns Music Festival, held February 1st and 2nd, brought together a select group of middle school band and orchestra students and music directors from Briarcliff, Croton, Ossining and Sleepy Hollow. The Festival culminated in a free concert at the Frances G. Willis Briarcliff High School Auditorium at 2 p.m. on Saturday, February 2nd.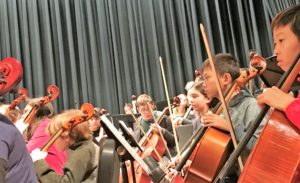 The yearly event showcases the talents of exceptional middle school musicians and provides them the opportunity to learn and perform traditional music at a higher level outside of traditional classrooms and concert spaces and allows them to interact with their peers from neighboring districts. An intensive full rehearsal on Friday afternoon helped connect students on-stage and during breaks.
The Honor Orchestra performed Francis Feese's "Contracts in E Minor," Leo Delibes' (as arranged by F. Halferty) "Flower Duet from 'Lakme'," and the 1990s Nirvana favorite "Smells like Teen Spirit" by Larry Moore. As a special treat, this year's orchestra included an electric base and drum set. The Honor Band performed Texidor's "Amparito Roca," "Pavane, Op. 50" by Gabriel Faure (arranged by Larry Clark), and "The Best of Chicago" arranged by Paul Murtha.