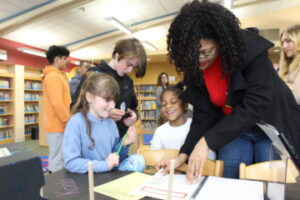 Lions, tigers and sea otters, oh my!
These critters, and many more, were all there in the Pocantico Hills Central School District library when first graders and their families gathered recently. Don't worry. They came in the form of adorable clay creations!
The menagerie was all part of a special student writing project. They learned about non-fiction writing and were assigned to select an animal, conduct research about it, and write a paper. The project also incorporated original drawings in the report. While in art class students created clay figures of their animals and made a diorama to place the animal in a replica of their natural habitat.
Once complete, families and friends were invited in to review the students' work and leave comments about the projects.
"Because they are big cats," student Gray Odom said of why they picked the lynx to study. "They can eat a moose," she said as she stood beside her diorama.
Saavan Patel was attracted to the thresher shark.
"It can sting and has a very long tail and yellow eyes," he said.
The project was fun, Saavan said, noting that he especially liked working with the clay to create a model of his animal and then painting it.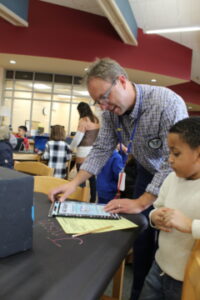 "It was very nice to work on," student Zavier Cecarelli agreed. "I like how I did it. It's very real."
Zavier studied and wrote about tigers because "they have sharp teeth, and they can bite a lot of things."
Jaxson Jones was also a fan of the lynx.
"I learned that they like to live alone," he said.
Among some of the other animals that students researched were koalas, Pomeranians, Beagles, saber tooth tigers, snow owls and chinchillas.
Teacher Michelle Fitzpatrick said the non-fiction unit is something she does every year with her students, but this is the first time their work was on display since the pandemic.
"It's a writing celebration," she said of the event.
"We work on this unit so they can understand the difference between fiction and non-fiction writing," teacher Christina Povemba explained. "They did a great job."
Students had to research and include specific information in their written reports, including their chosen animal's habitat, diet, lifecycle and appearance. Their books about their animal also included a dedication page and a glossary.