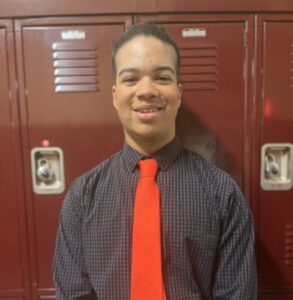 Ossining High School Senior, Sethe Newman, has been awarded the 2023 Vice Chancellor Emerita Adelaide L. Sanford Scholarship. The highly competitive scholarship recognizes Sethe's academic excellence, leadership, and commitment to community service, particularly his involvement in the My Brother's Keeper (MBK) program.
The scholarship is named for Dr. Adelaide L. Sanford, the first African American and the first woman to serve as Vice Chancellor of the Board of Regents. Through Dr. Sanford's generosity, the scholarships are awarded annually to exceptional MBK Fellows and graduating high school seniors from NYSED-recognized MBK communities.
Established in 2014 by President Barack Obama, the MBK program aims to address the opportunity gaps boys and young men of color face and to ensure all students can reach their full potential. Sethe has been a dedicated member of this program at OHS, serving as a mentor to younger students and participating in various community service projects.
"Sethe is an exceptional young man who embodies the values of leadership, service, and community. His commitment to the My Brother's Keeper program has made a tremendous impact on our school community, and we are proud to see him recognized for his hard work and dedication," said Superintendent Dr. Raymond Sanchez.
The scholarship will provide $500 annually for four years to cover tuition, fees, and books while Sethe is enrolled in college.
Sethe will attend the New York State Education Department Board of Regents meeting on Tuesday, May 16, 2023, where he will be formally acknowledged and presented with the scholarship award.