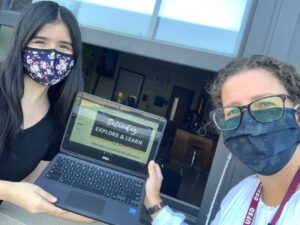 The Ossining School District's popular Saturday Explore & Learn Program returns next month, with outdoor activities like futsal, hikes, tennis and art at school buildings and local recreation areas, and lessons at Mike Risko Music.
The dates for fall enrichment programs are Oct. 3, 17 and 24, and there are classes for children in all age groups. The deadline to register for the free sessions is Sept. 30. All programming will be outside.
"It's important for Ossining schools to continue providing these exciting Saturday enrichment opportunities for our students and families," Superintendent Raymond Sanchez said. "The district and our partners have adjusted the fall format to provide a safe outdoor environment for all the activities. We hope you can join us."
Ossining schools are collaborating with multiple organizations for Saturday Explore & Learn, including the Ossining Public Library, Teatown Lake Reservation, Neighbors Link, United Martial Arts Centers, Pace University, the Ossining Historical Society Museum, Mike Risko Music,  NY Ecuador F.C. and the Crossover Yoga Project. The district is grateful to the Ossining Matters foundation for sponsoring the program.
The courses vary depending on the school and age group. For example, students in pre-k through grade 1 can go on guided hikes of Teatown's trails. Brookside School students can spend a morning playing futsal, a five-on-five game that is a variation of soccer. Options for third-, fourth- and fifth-graders also include tennis at Nelson Park and martial arts at Claremont School. Students in grades 3-6 can learn to play guitar.
Ossining High School students can take part in the Crossover Yoga Project at the school; early afternoon historical tours of Ossining led by Dana White, former village historian; and a process art program at OHS (which is for grades 6-12). Anne M. Dorner Middle School students can also participate in Crossover Yoga at OHS.
The Ossining Public Library is offering some of its favorite programs at Roosevelt School for children in grades 3-5, including fun math games on Oct. 3 and yoga on Oct. 17 and 24.
There are health and safety requirements for the Saturday programs due to the COVID-19 pandemic. Parents and students must complete the COVID-19 screening before attending, and parents or caretakers of elementary and middle school students must remain with their children during the program. Masks are required at all times, and participants must practice social distancing.
No transportation is available to the different sites.
To learn more or register, visit https://sites.google.com/ossiningufsd.org/oufsdsaturdayexploreandlearn/home.