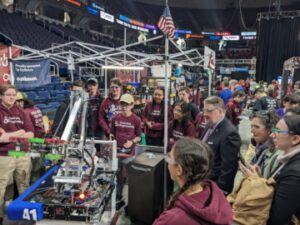 The Ossining High School Robotics team performed exceptionally well at the highly competitive FIRST® (For Inspiration and Recognition of Science and Technology) New York Tech Valley Regional Robotics Competition, held March 29-April 1, at the MVP Arena in Albany, NY. The OHS team, known as the "O-Bots", competed against the 50 best teams from across New York
State, ranking high through the first two days of the competition. The team finished as the #6 Alliance Captain and won a bid to the World Championships in Houston.
"We were an underdog story throughout the entire competition," said Sarah Gardner, President and Captain of the Robotics team. "Theoretically, the five Alliances ahead of us were supposed to have to better bots, but ours stood out as one of the strongest contenders." Driven by team members Luke Zebelman and Joseph Robertazz, their innovative robot features a newspecial type of drivetrain called a swerve drive and was able to lead its team through the playoffs to the championship game.
"This is easily the most complicated, most advanced robot we've ever built—and the highest performing," said Engineering Teacher Doug Albrecht. "A lot of people see it as a robotics competition, but we're building robots of the future." The O-Bots also won an Autonomous Award for their programming in C++. Led by Dr. Ken Ocheltree who volunteers with OHS Robotics, the programming team is comprised of students Gabriel Sankar, Veronica Larson, and Massimo Giambona.