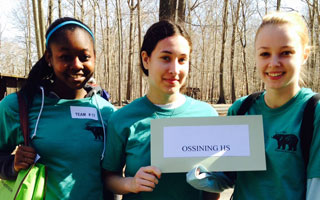 A team from Ossining High School was Westchester's highest scoring group at this year's Hudson Valley Regional Envirothon, an annual environmentally themed academic competition for high school students organized by the region's county Soil and Water Conservation Districts.  The competition is held on regional, state and bi-national levels and combines in-class and hands-on environmental education,
testing students on aquatic ecology, forestry, soils and land use, wildlife and a fifth current environmental issue that changes each year. Twenty-five high school teams from the Hudson Valley competed in this year's regional competition held at the Sharpe Reservation in Fishkill on April 15 and Ossining's five- member Team 17, led by teacher Valerie Holmes, finished fourth.
As the highest ranking team from Westchester County, Ossining Team 17 has qualified to compete in the May 27-28 New York State Envirothon at Hobart and William Smith Colleges in Geneva, N.Y. The 2015 North American Envirothon will be held in Missouri from July 27 to August 2. Last year, a New York State team won the North American competition.
"Congratulations to Ossining Team 17. They are making Westchester proud as they take on other teams from around the state.  We wish them the best of luck," said Westchester County Executive Robert P. Astorino. Astorino also lauded the participation of the nine other Westchester teams who competed in the regional event, commending their environmental stewardship and academic competitiveness.
The following Westchester schools participated in the regional Envirothon and sent either one or two teams:
John Jay High School, Katonah-Lewisboro School District, Cross River
Hastings High School, Village of Hastings-on-Hudson
Ossining High School, Village/Town of Ossining
Yorktown High School, Town of Yorktown
Tech Center High School, Putnam-Northern Westchester BOCES, Yorktown Heights
Walter Panas High School , Lakeland Central School District, Cortlandt
The Westchester County's Soil and Water Conservation District and Department of Planning co-sponsored the Hudson Valley regional competition and will co-sponsor Ossining High School's participation in the New York State competition.