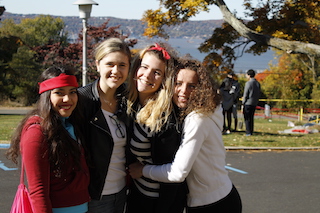 As we celebrate EF's 50th anniversary and nearly 25 years here in Tarrytown, it's a good time to reflect on the challenges and rewards of running one of EF's largest international schools. The EF International Language Center, located on the former campus of Marymount College, is one of over 500 EF schools and offices around the world.  It's also a familiar site on the skyline of Tarrytown, the dome above Butler Hall visible from the waterfront, the Tarrytown Lakes and the Tappan Zee Bridge.
Photo: EF students enjoying the Tarrytown campus after class
Our initial presence on the campus began in 1991, as a result of a partnership agreement with Marymount College to run a small year-round intensive English program for international students in leased space in St. John's Hall. While the international presence was welcomed by many, there were those who (rightly as it turns out) questioned the future. Clearing out some space in the basement of Butler Hall recently, we found an old edition of "The Cormont" (Marymount's student newspaper) from September 1994, with an opinion piece entitled "What! EF Taking over Marymount?"  Though it wasn't true at the time, in hindsight this turned out to be somewhat prophetic.  Fast forward to summer 2008, when EF purchased the campus from Fordham University – a big investment in our future and an operational challenge!
Now almost eight years later, we can look back on how much has happened over these years.  Enrollment at the school has continued to grow – to the point where we purchased a second "home" in Thornwood in 2014, to accommodate EF Academy (our international boarding school).  Moving the high school allowed the Tarrytown campus to once again become the focus of our Language programs.  One of our strengths is the mixture of nationalities studying on campus.  We have students from over 40 countries in an average month (more in summertime), truly reflecting global diversity and the power of our mission.
My own involvement with the campus started in 2012, when I was asked to move here to assume the role of Executive Director.  Living in Seoul, Korea, at the time, we were rather surprised by this request, but ready for the challenge.  After planning the perfect move, we were surprised again – this time by Hurricane Sandy the week after our arrival. Though we were fortunate and there was no substantial damage on campus, this was a quick introduction to campus infrastructure and the challenges of housing and feeding students with limited power!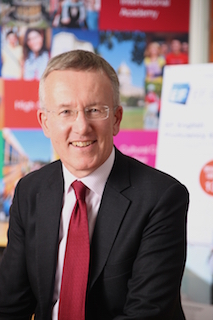 While much of my day-to-day responsibilities revolves around campus operations – facilities, maintenance, housekeeping, security and community relations (to name a few), we also need to look forward.  Clearly we needed a "road map" for the future, so it was an initial priority to establish a five-year development plan for the campus, helping us to balance future growth with deferred maintenance and investment in upgrades.  It was a worthy goal, but one I have come to realize will never be reached!  The "plan" is in reality a living document guiding current priorities and envisioning the future, but constantly changing.
Embracing change and flexibility are key to EF's success.  For me the past three years have been a whirlwind of projects and initiatives; an induction into the complexities of local government and regulatory oversight (sometimes with mixed results); and adjusting to life in a new culture and community. A lot has happened!  Some things are visible to all – the Neperan Road wall restoration and the improvements to the sidewalks and campus landscaping spring to mind.  Other improvements are less visible – roof replacements, energy improvements and interior renovations. One thing we know, the investments will continue, as we slowly restore the campus and create a 21st century learning environment "on the hill."
When I'm asked to describe the EF school, I often use the analogy "we are like a combination of a Holiday Inn and a hospital" – we never close, we have arrivals and departures all of the time and most of our students live here!  We are also "home-away-from-home" and to make this happen requires teamwork and dedication from over 150 staff on campus.  From the front desk and office staff to housekeeping, dining services, IT and faculty, we all play a role in delivering a successful learning and living experience for our students.
Support from and involvement in the Tarrytown-Sleepy Hollow community has been an important part of the school's success.  This is a secure and supportive environment for our students, yet close enough to the cultural resources of New York City to make it extremely attractive to parents and students as a study destination.  Part of my personal mission has been to slowly and steadily improve the integration of campus and our students into the community.  Our host family program, the sponsorship of local organizations, student volunteer work and internships, as well as opening our facilities to community organizations, all play an important part in this on-going effort.  We are here for the long-term and want to be sure the "town and gown" relationship is positive and benefits everyone.   We are looking forward to continuing growth and success for years to come.
EF Education First is an international education company focusing on language, academics, educational travel and cultural experience.  With a mission to open the world through education, EF was founded in 1965.
EF's worldwide presence:
50+ countries with EF operations
43K EF staff, educators and tour directors
500+ EF schools and offices
1 global mission
Philip Johnson, the Executive Director at EF, recently moved to Tarrytown with his family and serves on the Board of the Sleepy Hollow-Tarrytown Chamber of Commerce.