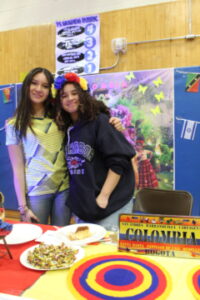 Anyone who left the One Poco Night on Jan. 26 at the Pocantico School gym hungry has only themselves to blame.
The event was a culinary bonanza that featured cuisine from all over the world—pierogi's, Irish soda bread, Causa Rellene de Pollo, Ai-Yu Jelly, jerk chicken and so much more!
The event returned after a brief hiatus and Principal Adam Brown said it was the largest crowd yet to come out and enjoy the evening. So many families signed up to contribute food that the school decided to hold the event in the larger gymnasium rather than squeezing in the cafeteria where it was held in the past.
The school sent out a sign-up sheet for families to decide what dish to make for the event. There were foods from France, Lithuania, Colombia, England, Holland, the Philippines, and every other corner of the world.
"I like everything," seventh grader Ethan McGuire. said after his culinary trek around the gym. "It's really fun to try new foods."
"The performances were nice too," said classmate Robert Prisco.
Robert was referring to the start of the evening when guests gathered in the auditorium to watch several performances from students.
Among the performers were SriVidya Vinjamuri who performed a short song in Carnatic music, a form of Indian classical music with origins in Southern India. Savannah Bremmer, who is from Africa, shared the song "Lift Me Up," from the movie Wakanda and Claire Wang played "The Legend of the White Snake" on the guzheng, a Chinese harp.
"It's a great way to bring everyone together," said ELL teacher Joy Scantlebury. "It's a way to celebrate their cultures. It strengthens that communal connection."
Parent Madaly Maquera shared Causa Rellene de Pollo, an appetizer that is common in her native Peru. It's filled with potatoes and chicken along with mayonnaise.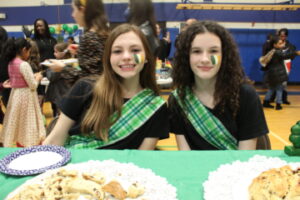 Maquera said her daughter is very proud of her heritage and encouraged her to contribute a dish to the evening. "She's always wanting to share."
Parent Akilah Whittaker was also encouraged by her daughter to make a culinary contribution.
"She noticed there was no Jamaican food on the sign up and she wanted it represented," Whittaker said.
The Jerk Chicken she made is a dish that takes some time as it is made in smoker, she said, so it's not something she makes very often but she was happy to share.
"This is already an amazing night," Brown told the crowd. "It's a really special day we can all celebrate each other."