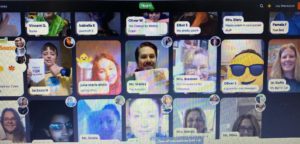 "Sharks live in the ocean. They do not have claws. They have sharp teeth; they do not live on Mars." 
This poem, written by a second grade student at W.L. Morse represents the creativity and joy a student experienced writing his own poem and then sharing it on April 30, 2020, also known as Poem in Your Pocket Day. 
Traditionally, when students are in school, they carry a poem in a pocket of their clothes or make a pocket out of paper so that they always have a poem to share with a friend in class. Since students are now engaged in distance learning, all the second graders participated virtually. They read a favorite poem or wrote one and posted it on flipgrid. 
Teacher Joy Sherwood said watching and listening to the students read their poems brightened her day. "To see the smiles and pure pleasure that the students exhibited, it brought such happiness." She was also impressed by the level of their work. "We did not study poetry before leaving the building in March. This is just the kickoff to our poetry unit." 
Prior to posting the poems, teaching assistant Elizabeth Golden shared a video with the students where she demonstrated how to share their poem.  Evelyn Rivera, another second grade teacher taught children how to create a pocket out of paper. 
Poetry relaxes some of the rules as compared to other types of literature. Even young children understand the power of their words. "Poetry brings confidence to students, especially those who might struggle with reading or writing. They realize they can do it," said second grade teacher Christina Miles. 
The students seemed to agree rhyming words make reading and writing poetry enjoyable. 
What made this exercise even more exciting is that fellow students listened and reacted to the poems, a way to stay connected through distance learning. Only one day after the children posted their poems, more than 4,000 members of the Morse community viewed the lesson and there were 170 responses.  
Assistant Superintendent for Administration Pamela Fisk, Director of Curriculum Gail Duffy, Principal Walley and all the second grade teachers also read their favorite poems virtually to the students..