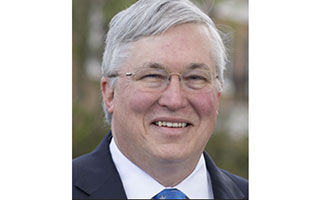 Mercy College's new president Timothy L. Hall begins today as the College's 12th president.  The Mercy College Board of Trustees elected Hall in January 2014. Hall said: "Mercy College's mission and commitment to student success will remain a priority for me.  I look forward to collaborating with faculty, staff and students to continue the College's increasing stature and strength."
Hall replaced Dr. Concetta M. Stewart who served as Interim President of the College for 10 months.  Dr. Stewart has resumed her position as Provost and Vice President of Academic Affairs at Mercy College which she held prior to assuming the Interim Presidency.
About Timothy L. Hall
Prior to his arrival at Mercy College Timothy L. Hall was the President of Austin Peay State University.  Under Hall's leadership, Austin Peay State University experienced significant increases in enrollment and funding, and received distinctions in 2012 and 2013 as one of the Great Colleges to Work For by The Chronicle of Higher Education.  In fact, in 2013 the Chronicle listed Austin Peay as one of ten large universities in the country—along with Stanford, Notre Dame and the University of Michigan—on the Honor Roll of Great Colleges to Work For.
Hall supervised the opening in 2008 of the Governor's School for Computational Physics, a five-week summer residential program for talented high school students. He also cooperated with the local school system in the fall of 2008 to establish the Middle College at Austin Peay State University, a program for high school students who complete both high school and university credits on the campus of Austin Peay. Additionally, Hall oversaw the creation of a Center for Teaching and Learning as well as the University's expansion through establishing satellite programs and increases in evening, summer and winter term courses.
The institution he currently serves has gained national attention for developing a software program called Degree Compass which uses predictive analytics to provide information to students and their faculty advisors about courses in which they are most likely to be successful.  Leaders including President Barack Obama and Bill Gates have both praised Austin Peay's innovation in this area, and publications including The New York Times and The Wall Street Journal have spotlighted the University's use of technology to support student success.  The institution's reputation for innovation led to Hall being invited to testify in October before the U.S. Senate Health, Education, Labor, and Pensions Committee about steps his institution has taken to help more students succeed.
The achievements President Hall's current institution experienced during his tenure have been built on a foundation of collaborative efforts by faculty, staff and administrators to support the success of students.  The organization Public Agenda recently released a report titled Seven Practices of Enlightened Leadership in Higher Education:  A Case Study of Austin Peay State University, which praised the institution's "uncommonly positive and collaborative" environment, and recounted conversations with faculty and staff which "spotlighted high levels of confidence and trust in leadership that they and their colleagues share."
Prior to joining Austin Peay State University, Hall served as Associate Provost at the University of Mississippi and Executive Director of a capital campaign to raise $50 million for a new law school facility. Other professional roles include Professor of Law at the University of Mississippi School of Law, Visiting Professor at the University of Texas School of Law, litigation associate in private practice and as Judicial Clerk to the Honorable Will Garwood, United States Court of Appeals for the Fifth Circuit.
Hall earned a Bachelor of Arts in philosophy at the University of Houston, followed by graduate work in the Department of Religious Studies at Rice University and earned his Juris Doctorate at the University of Texas School of Law, where he served on the editorial board of the Texas Law Review.

About Mercy College
Founded in 1950, Mercy College is a private, not-for-profit higher education institution that offers more than 90 undergraduate and graduate programs within five prestigious schools: Business, Education, Health and Natural Sciences, Liberal Arts and Social and Behavioral Sciences. Mercy College offers an engaging and personalized learning experience that includes the College's revolutionary Personalized Achievement Contract (PACT) program. The Mercy College PACT is the first program of its kind and now serves as a nationally recognized model for mentoring. www.mercy.edu / 877-MERCY-GO.