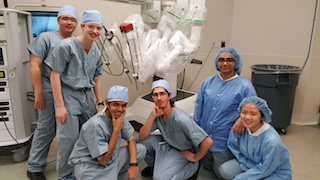 As winter draws to a close and the harbingers of spring and summer begin to sprout, our schools continue to not just meet standards of excellence and innovation but set the standards in academics, the arts, athletics and in compassion and caring too.  Whether creating special food drives, robotic race cars or works of art; whether developing leadership or research skills; celebrating diversity, practicing mindfulness, even forging ahead with meaningful Alzheimer's research or taking part in a program that introduces robotic surgery, our students continue to become leaders of tomorrow who always make us proud, sometimes leave us in awe.
Irvington
Robotics Rules: Irvington High School Students Learn about Robotics Surgery at WP Hospital
Photo: (L-R) Irvington High School students Po-Jung Lai, Henry Demarest, Anshuman Das, Alborz Etemadi, Aayushi Jha and Hwa-Lyang Sugihara participated in a two-night robotics surgery program at White Plains Hospital.
Six students from Irvington HS participated in a two-night robotics surgery program at White Plains Hospital Jan. 30-31, meeting first with a robotics
surgeon, physician assistant and nurse, then working in a simulator lab on the second day.
"The goal … was to expose students to careers in robotics, not necessarily around the field of medicine," said Principal David Cohen, who helped provide the experience through a partnership with White Plains Hospital.
Congratulations to the students accepted into the program: freshman
Anshuman Das, freshman Henry Demarest, sophomore Alborz Etemadi, junior Aayushi Jha, sophomore Po-Jung Lai and junior Hwa-Lyang Sugihara.
Racing Robots – Irvington 8th-graders Design Robot Drag Race Cars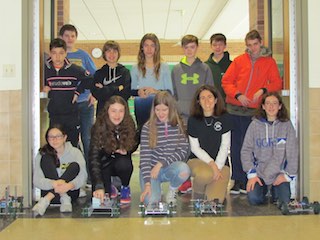 Irvington eighth-graders in Diana Cassidy's Technology 8/Automation and Robotics classes recently designed and built their own drag race cars as a culminating project.
Having spent the semester learning how to make an automated system by combining the mechanical systems with coding, the students were challenged to build a car that had no more than four wheels and two motors, at least one mechanism, started at the activation of a sensor and traveled to a specified square in the hallway a couple of feet wide and approximately 19 feet from the starting line.
"The students assumed the responsibilities of a mechanical engineer, electrical engineer or computer engineer," Cassidy said.
It's Amazing! – Circus Skills Teach Irvington Students Balance and Motion
Dows Lane Elementary School second-graders learned to balance on stilts, teeter on a tightwire and tumble across a mat when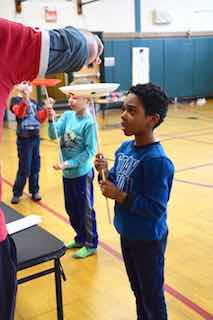 the Amazing Grace Circus, an educational and outreach partner of Westchester Circus Arts, visited Dows Lane Elementary School from Feb. 5-9.
Second-grade teacher Kari Carlson said, "[Students] realized how much their arms and legs need to move in different ways in order to be successful…"
The students practiced juggling, plate spinning, diabolo manipulation, and learned how to climb and hang off aerial silks. At the end of the week, they showed off their newly-acquired skills to parents, teachers and peers.
Amazing Grace Circus Creative Director Carlo Pellegrini, also known as "Mr. Amazing," said, "We demonstrated balance and motion principles using the actual skills of their body, mind and spirit."
The Amazing Grace Circus' visit was sponsored through a grant from the Dows Lane Elementary School PTSA.
Irvington Students Excel at Science Research Symposium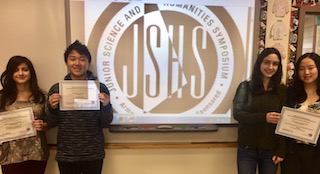 Members of Irvington High School's Science Research program garnered multiple prizes for their research projects at the annual Westchester-Rockland Junior Science and Humanities Symposium presented at John Jay High School on Feb. 3.
Competing against more than 650 students from Westchester and Rockland before a panel of judges and an audience of peers, senior Rebekah Rosman placed third in medicine and health; junior Jerry Wu placed third in engineering and technology; and juniors Julia Caldropoli and Chrysmine Wong placed second in physics and astronomy. Senior Claire Song, who placed first in the cellular and molecular biology category, advanced to the State level, taking place at the University at Albany, SUNY in March.
"Behind every poster or PowerPoint presentation, there are endless hours of research and preparation," said Nadia Parikka, who advises the program.
Tarrytown
Tarrytown Students Delve into Immigration Research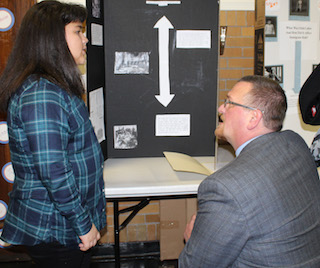 Fifth Grade Challenge students from Washington Irving brought their research to life on February 12th during the school's annual Archive Project Presentation. For almost two months, 34 high-achieving students in Elisabeth Hickey's class researched "Immigration and Tenement Life and the Impact of Philanthropy in the Early 20th Century."
The class received primary source materials including articles and historical documents from the Rockefeller Archive Center. Marissa Vassari, an educator and co-archivist who visited the class each week, noted that students learned skills similar to those
utilized by graduate students. "Researchers learn at any age to develop expertise," Vassari said. "This project gives them critical thinking skills and confidence."
Aaliyah Monegro's family emigrated from Guatemala and faced many of the same challenges as immigrants from earlier times. "It is really inspiring to see how immigrants came together to make a foundation," Monegro said.
The students explored healthcare, education and the workforce related to immigration. Poster-boards lined the WI entrance hall as fifth-graders answered such questions as: "Why were immigrants so poor?", "Why was it hard for women to be successful?", "What was child labor and how did it affect kids?"
Student panelists answered questions from a Rockefeller archivist and audience members. On Friday, February 16th, the Challenge Students visited The Rockefeller Archives Center in Sleepy Hollow and discussed their research with archivists.
Mindfulness Matters: Tarrytown Creates a Calming Classroom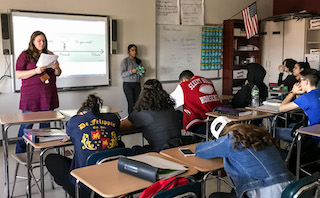 On any given day you will see dimmed lights, heads down and hear quiet breathing during Geraldine Subba's social studies class. The Sleepy Hollow High School teacher tries to incorporate a mindfulness activity during her 90-minute lesson. "… Students … need a natural break." Subba said, "This gives their mind and body something different to do."
Junior Caleb Franco said, "Mindfulness allows you to think and turn the negative energy into something positive."
Tawn Turnesa-Norton, the Chairperson for the Physical Education and Health Departments in the Public Schools of the Tarrytowns, who spearheaded the idea of the mindfulness movement, said, "No one teaches kids or teens how to deal with stress and manage their anxiety."
She said, "I found my own mind always racing and rushing. I needed to relax and slow down."
Turnesa-Norton is in the process of receiving certification through Mindful Schools, an organization which trains teachers from kindergarten through 12th grade on the concept. Turnesa-Norton has presented at conferences in New York State to instructors from all over the State, as well as to her colleagues in Tarrytown. The key, she says, is to retrain your brain to deal with stressful situations in a more productive way. Individual sessions last anywhere from 5 to 15 minutes.
She has incorporated mindfulness activities into her yoga classes. During one session, students examined an emotion wheel and expressed feelings. Skeptical at first, junior Helen Tejada now sees the benefits. "Mindfulness gets you to recognize all your emotions and deal with them more. You can attack your worries," she said.
Sleepy Hollow High School African American Culture Club Celebrates Diversity
During a recent meeting of the Sleepy Hollow High School African American Culture Club, students wrapped flowers and filled bags with chocolate for the Club's Valentine's Day Fundraiser.  Students ordered the Valentine goodies, then African American Culture Club members delivered them to classes.
More than a dozen students comprise the Club that represents many cultures and is designed to promote African American culture.
"It's fun and a good way to meet people," said co-president Nasir Williamson, a senior, who still wants to do more. "I want to educate people," he said.
Reaching out to the SHHS community, the group hung posters of distinguished Black Americans to mark Black History Month and created two segments for the high school's Digital News featuring Jesse Owens, Shirley Chisholm and Bessie Coleman.
Triniti Kearse, co-president of the club, said, "We want to spread awareness, to inform, to educate as many people as we can."
Club member Santiago Hernandez believed it was especially important to recognize four-time Gold Medalist Jesse Owens who competed in the 1936 Olympics in Berlin. "He is an inspiration. His accomplishments prove that anyone can succeed. It does not matter where you come from."
"I am blessed to have this group of students," said Club moderator Pat Bonitatibus.
"We are here to support anyone and everyone in the school. We unite and work together," said Kearse.
The African American Culture Club recently packed food at the Food Bank for Westchester and conducted a food drive. The group is also planning a fundraiser to assist UNICEF and its anti-human trafficking efforts.
Ossining
Ossining High School Students Named National Merit Scholarship Finalists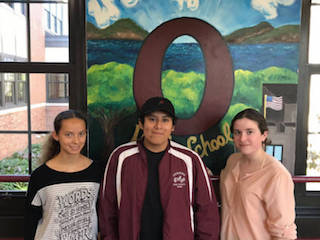 Three Ossining High School seniors are finalists in the 63rd annual National Merit Scholarship Program.
Marlond Criollo, Skyler Jones and Emma San Martin, chosen as semifinalists in the fall, learned this month that they are among about 15,000 finalists competing for some 7,500 scholarships worth more than $32 million.
High school juniors who take the Preliminary SAT are automatically entered into the competition. About 1.6 million students in more than 22,000 high schools nationwide took the PSAT in 2016. Approximately 16,000 semifinalists were the highest scoring entrants in each State.
Roughly 90 percent of semifinalists become finalists, and about half of these earn the Merit Scholar title.
Winners will be announced in four nationwide news releases between April and July.
Ossining Leadership Program
Students at Anne M. Dorner Middle School, Roosevelt School and Ossining High School are learning about integrity, vision and
other leadership skills in a 10-week afterschool initiative.
The Brieant Youth Alliance's Life Long Leaders program promotes self-confidence and self-esteem and encourages participants to become leaders in their classroom and community. Students use their newly developed skills to plan and implement a school or community project.
AMD sixth-grader Conrad Blaha thinks the leadership program will help him communicate better. "I feel like I have a lot of knowledge and I could help provide it for people that don't have as much…" he said.
His group is planning an interactive Earth Day presentation for children at Claremont School that will cover the 5 Rs for the environment: Reduce, Reuse, Recycle, Refuse and Repurpose.
The nonprofit Brieant Youth Alliance is named after the late federal Judge Charles L. Brieant of Ossining, who was deeply committed to his community and children's education. This is the seventh year the alliance has worked in Ossining schools.
OHS Senior's Alzheimer's Research Makes Her One of Four National Neuroscience Awardees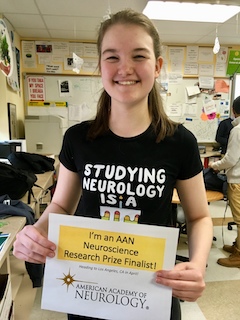 Ossining Science Research Program student Sarah Hoffman is one of four winners of the 2018 Neuroscience Research Prize, an award sponsored by the American Academy of Neurology and the Child Neurology Society.
Each year, the organizations select four high school seniors as winners and award them $1,000 each. Three of the students, including Sarah, and their teachers receive an all-expense paid trip to the American Academy of Neurology's annual meeting in LA in April. The other winner will make a presentation at the Child Neurology Society's annual meeting.
"I committed thousands of hours to my project, and to have my work pay off in this way is truly gratifying," said Hoffman.
Sarah Hoffman investigated Alzheimer's disease-related protein expression and immune cell activation in the brains of male and female mice as well as humans and found that female mice have a more severe Alzheimer's pathology in both brain regions examined. Preliminary findings indicate the reasons could be related to synaptic, hormonal or cerebral blood flow differences between men and women.
She concluded that Alzheimer's research must consider sex differences. Her findings may help lead to the creation of sex-specific Alzheimer's disease treatments.
Briarcliff Manor
Briarcliff Boys Track Team Relay Breaks Record — Again!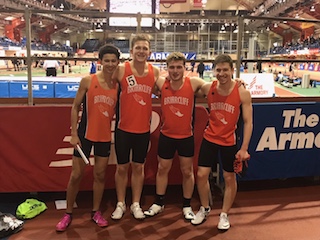 At the final meet of the winter on February 11, boys from the BHS track team ran the 4x200m relay, breaking the school record again with the same group that broke it for the first time earlier in the season.
Variation Coach David Robinson said, "We had quite a few personal bests as well. Unfortunately, nobody ran fast enough to get into the State qualifier meet, so the indoor season will come to a close. But the athletes gave everything and we had some great performances!"
Briarcliff Manor "Souper Bowl" Food Drives – Go Cans!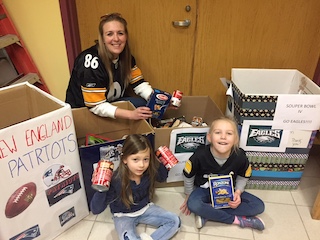 Student Government at Briarcliff Middle School ran a Souper Bowl canned food drive on Friday, February 2.  The students collected over 275 cans and boxes of food to support Lift Up Westchester, a food pantry serving central Westchester.
The Todd School PTA Community Outreach Committee, chaired by Kate Sanzenbacher and Cathy Labick, sponsored Todd's fourth annual Souper Bowl to help fight hunger.
Students were asked to donate at least one canned good or non-perishable.
As the Souper Bowl was timed to coincide with the Super Bowl, children rooting for the Eagles came to school in green and black; Patriots fans wore red and blue; some chose to dress in blue and orange to show Briarcliff school spirit.
Students deposited their donations in bins at Todd –  one for the Eagles, and one for the Patriots. The team with the most donations was declared the winner of Todd Souper Bowl IV. Final score 181 Eagles – 110 Pats. 291 total. Go cans!
Congrats to BHS Artists – And the winners are…
"…to give those high school students who demonstrate superior talent and achievement in things of the spirit and of the mind at least a fraction of the honors and rewards accorded to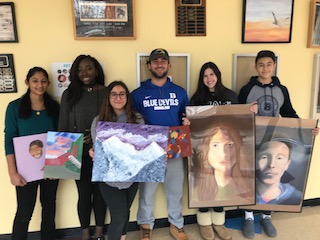 their athletic classmates for demonstrating their…skills."   Maurice R. Robinson, Founder, Scholastic Art & Writing Awards
Founded in 1923, the Scholastic Art & Writing Awards are the nation's longest-running, and is the most prestigious educational initiative supporting student achievement in the visual and literary arts. The program has an impressive legacy as the first such effort acknowledging talent in all, from poetry to photography, and today it remains the largest source of scholarships for creative teens.
BHS Visual Arts students have received outstanding results from the Scholastic Art & Writing Competition 2017-18.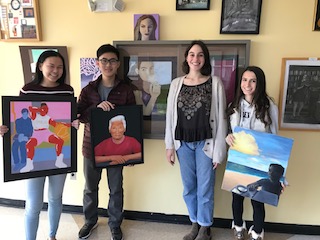 We applaud and extend congrats to: Farhaanah Mohideen:  2 Gold Keys,  2 Honorable Mentions (painting), HM (portfolio); Haochen (Daniel) Deng: Gold Key (digital), Silver Key (self-portrait, oil) & 2 HM (still life, portrait, oil); Hannah Siesel: Silver Key(drawing) & HM (painting); Anna Albert: Silver Key (self-portrait drawing) & HM (portrait painting); Emma Calame-Pennington: HM (self-portrait); John Gross: Gold Key (furniture design); Isabel Klein: HM (portrait painting); Kala Herh: Silver Key (self-portrait, oil); Oyin Tukuru: HM (architecture painting); Sarah Albert: HM (self-portrait, oil); Colby Cho: HM (self-portrait, pastel), HM (drawing); Sophie Jelinek: (self-portrait); Clara McGuire: Silver Key (digital).
Pocantico Hills
What's App in Pocantico Hills? Mobile App Launched
The latest news and information from the Pocantico Hills Central School District is now available on smartphones and mobile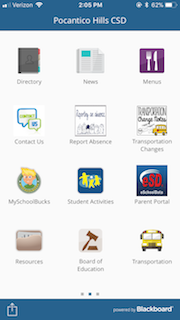 devices with a new mobile app. Pocantico is partnering with Blackboard to expand its communications outreach with the free app, available in the online iTunes and Google Play app stores.
The app offers an updated feed of Pocantico Hills news and events with photos and links to the District's website to help students stay up to date on important notifications, student news, events on the school calendar and daily menus. Parents can report absences or changes in transportation for students, and receive push notifications to get breaking news, updates about school closures and calendar changes.
Parents and community members can also find email links to school administrators and departments on the app, as well as important publications and resources. During the warmer months, users can access the app for information on the pool and Pocantico Hills Day Camp.
To download the Pocantico Hills CSD app to their smartphones, parents and the public can visit: iTunes: https://itunes.apple.com/us/app/pocantico-hills-csd/id1318917527?mt=8
or Google Play: https://play.google.com/store/apps/details?id=com.blackboard.community.pocanticohills