It wouldn't be Christmas in the River Towns without the Westchester Ballet Company's annual production of The Nutcracker.  
But this year's Nutcracker breaks several molds for the Ossining-based, non-profit youth ballet, starting with the dancer in the lead role. For only the third time in the company's history, this will not be performed by an adult guest artist but rather by a student dancer, Ossining High School senior Henry Hoffman.  
"Henry has reached that level," comments Amy Harte, president of WBC's board of directors. 'He's highly accomplished, and gifted with performance capabilities in addition to technical ones. He's such a generous dancer. This is a beautiful crowning achievement for him." 
But Hoffman's casting is not the only exception to the general rule. A new dancer to the company, Christopher Harrington Schiermbock, an eighth-grader from Pierre Van Cortlandt Middle School in Croton-on-Hudson, is the youngest performer to take on the part of Russian, another role historically performed by an adult guest artist, which requires acrobatic skills and real stage confidence. "When he came to audition," says Harte, "we asked: 'Do you have an acrobatic trick?' And to our amazement he performed a perfect aerial, a hands-free rotation like a wheel in mid-air.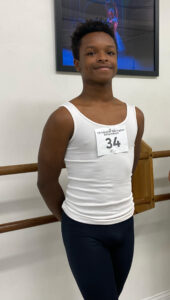 "We asked him for other acrobatic tricks and he kept delivering. It's not the first time one of our youth dancers has performed this role, but Christopher, at 14, is definitely the youngest. The artistic directors are developing choreography just for him. All that natural ability, it's just gorgeous." 
Clara, the main female role in the ballet, will be danced again by Lily Rivera from Ossining, a 16-year-old junior at Kennedy Catholic High School. "She's an amazing dancer, and, in another exception, she will also dance the solo role of Dew Drop, as Clara, something only one other student dancer has done with the company since 1986. Again, the artistic directors have modified the storytelling and choreography to accommodate her impressive talent. For all these young dancers, these performance opportunities open up to them because they have put in the hard work." 
In all, some 88 youth dancers will be performing, many from the River Towns. "There's been a huge influx of 6-, 7- and 8-year-olds, which bodes well for the company over time. We have 30 dancers performing with WBC for the first time. We have so many mice, soldiers and clowns on stage this year – it will be very impressive, very powerful." 
This year's Nutcracker school performance sold out in three days, so the decision has been taken to open up the dress rehearsal to school groups, too. "We've already sold 3,200 tickets before we even get to the regular performances," says Harte. "Schools just love the show. And adults do, too." Tickets are on sale now for performances at the Lehman Center for the Performing Arts on Dec. 14, 15, 16 and 17 and are available at westchesterballet.org. 
River Journal Caught Up with Lead Dancer Henry Hoffman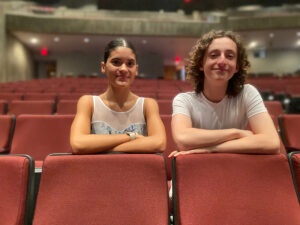 River Journal: How do you feel about dancing the lead? 
Henry Hoffman: It's definitely a lot of work but I can already say that it is going to be very rewarding once I get on stage. I have been passionate about ballet from a very young age, and it is a dream come true to take on such a significant role. Although it's very physically demanding, my love for ballet keeps me motivated.  
RJ: How have you prepared for the role? 
HH: I feel like I have been preparing for this role forever. When I watch videos of myself from a couple years ago, or maybe even a couple months ago, I can see myself improving. Every year, watching this role be performed, has already been super beneficial. I understand how the role should be presented and what kind of acting is involved. I am very much looking forward to bringing my own perspective to it. 
RJ: Do you see a future in dance for yourself? 
HH: My current (while still developing) plan is, depending on what college I end up attending, I would like to double major in dance and environmental design. Although dance is one of the most important things to me, it's not my entire life and I would also like to pursue other interests as I take on higher education.