Latino U College Access (LUCA) held its 11th Annual Gala Visiones: Soaring Higher on Thursday, November 2, 2023, at the Glen Island Harbour Club located in New Rochelle, NY. This year's honorees were Clara Román with the Partnership Award and Lydia Kris with the Community Advocate Award. Close to $400,000 was raised at this year's gala, which will allow for LUCA to continue making college dreams a reality for first-generation Latino students.
"I would like to thank everyone who supported our 11th Annual Visiones Gala as we celebrated and recognized two honorees who have made a significant impact on our organization and have helped us further our mission of uplifting the Latino community," said Cosette Gutierrez, LUCA Executive Director. "Continuing our mission would not be possible if it wasn't for the ongoing commitment and generosity from our supporters that allow us to help our Scholars courageously pursue their dreams and rise to new heights through the power of education."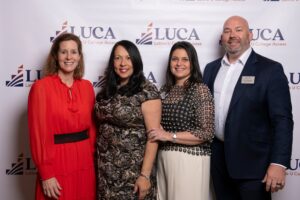 Attendees enjoyed an evening that included delicious food and drinks, dancing, an inspirational awards program and heartfelt Scholar testimonials. This year's Visiones sponsors were Bloomberg, Morgan Stanley, PepsiCo, EGF Accelerator, S&P Global, Shawn Edwards & Paulina Ribadenyra, Mark Ellman, Lydia & Gary Kris, Christine & Patrice Louvet, Joyce & Paul Rheingold, Lisa & Jonathan Schwartz, and Maureen & Matt Searles. For those who would like to make a donation and support LUCA's mission, please visit their website at www.latinou.org.
Photos courtesy of Lynda Shenkman