Take a bow. Students, teachers, administrators – take a bow and then listen: allow the applause to grow until it thunders in your ears. Look up and watch – it's a standing ovation! Seriously.
Photo: The Sleepy Hollow Middle School cast of Frozen Jr. put on quite a show. Photo credit: Mark Liflander.
As the school year winds down and summer glistens temptingly on the very near horizon, gleaming with its promises of sun and swim and play and the "lazy-hazy-crazy days" about to dawn (some readers will recognize the lyrics immortalized by Nat King Cole c. 1963), it's time for all to take a bow for a year well spent and a time of R & R well-earned. As children showcase art and music and theatre in many schools and in many forms; advocate for wellness and healthy choices for the mind, body and planet; celebrate the quest for fairness and equality for all; promote the best that leadership has to offer; work for the ideals of democracy and justice for all; encourage, not just compassion, but empathy for the struggles that many endure daily; commit to pairing team spirit with academic excellence . . . and so much more, it's a time for the rest of us to stand up, clap our hands together loudly, shout BRAVISSIMO and cheers to all! See you at graduation!
Tarrytown
Frozen Jr. Comes to Tarrytown
Sleepy Hollow Middle School students mesmerized audiences with Disney's Frozen Jr. in April. SHMS was one of a select group of schools chosen to put on the show. Director Peter Royston welcomed the honor. He noted, "It is kid-centered. Children are the choreographers, they brainstormed ideas for the set design. They have taken on leadership roles."
Eighth-graders Olivia Direnzo and Alicia Carvalho-Evans shared the role of Elsa. "Elsa is a modern day strong, independent woman and I love playing her and being a role model for other kids," said Carvalho.
Direnzo said, "This show transports you into another world . . . getting to play a character like this is such a great opportunity."
The students, who grew up watching Frozen, were excited to be a part of a live stage production.  "We dressed up as Anna and Elsa. We sang the songs," explained eighth-grader Isabelle Murphy who plays Olaf.
Fellow eighth-grader Christopher Tolentino, who shares the role with Murphy, said, "I really wanted to be Olaf and just being here is a wonderful experience."
The Public Schools of the Tarrytowns, the administration at SHMS, The Foundation for the Tarrytowns, and the Performing Arts Boosters all helped make the show a success.
Sleepy Hollow High School Artist Is Young Arts Winner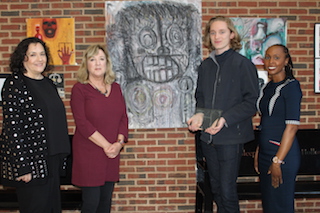 Sleepy Hollow High School senior William Gary was chosen as a 2018 National YoungArts Winner.
"He is prolific. I am impressed by his pure raw talent," said Fine/Media Arts Director Angela Langston. "Gary knows how to manipulate the tools. He is very advanced and very humble."
The National YoungArts Foundation (YoungArts) provided SHHS with an engraved plaque last month recognizing Gary's accomplishments. "He has had quite a year," said SHHS Principal Dr. Tracy Smith.
"He has won accolade after accolade."
Gary submitted 10 of his paintings and drawings with individual essays as part of the national competition. From over 7,600 applications, 757 winners in a variety of artistic fields were selected; only 12 winners were, like Gary, visual artists. The winners spent a week in New York City in April visiting art studios and meeting professional artists.
"It is an experience of a lifetime to network with these artists and receive professional guidance and to be recognized," said Gary.
His winning piece mixes charcoal, oil paint, colored pencil and oil stick on wood, creating an anxious face. "I created it during a difficult time," explained Gary. "I want people to feel something, to relate to it." Though his father is an artist, Gary's love for art only started to grow over the past few years.
As part of a thousand-strong community of artists,  Young Arts winners will receive a lifetime of encouragement, opportunity and support. Each year, YoungArts awards over $500,000 to hundreds of emerging artists and serves as the exclusive nominating agency for the U.S.
Make Art, Not Hate at Sleepy Hollow Middle School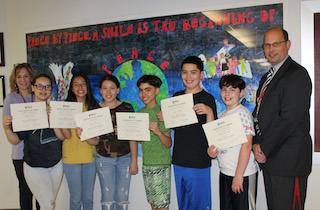 Six Sleepy Hollow Middle School students were honored as part of the New York Civil Liberties Union Lower Hudson Valley Chapter art competition "Make Art, Not Hate." The sixth-graders from Andrea Harrison's art class, who competed against schools from seven counties, created artwork to embody the themes: Fight Hate, Protect Democracy and Stand Up for Justice. The Grand Prize was awarded to Leslie Burgos for "Only Love Can Do That," a picture showing a purple and orange city with a quote from Dr. Martin Luther King, Jr. saying that only love can drive out hate. Burgos said, "I want people to live together and see each other as human beings."
Awards for Excellence went to Faith Rosado and Xiomara Chimbo for "On Different Ships" and to Peter Civarelli, Rudy Bencosme and Jayson Alicea's for "Flowers in Bloom."
"The project mirrors what we do in our classes," said Harrison. "This speaks to the children being friends. This is about acceptance. The students want their work to inspire others to support equality and differences, and act as a catalyst for change in the world."
The works were on display at the Mamakating Library in Wurtsboro earlier this month. Honorees received certificates and cash prizes from the NYCLU.
Pocantico Hills
Helicopter & Police Dogs Highlight Pocantico PTA Truck Day
Pocantico Hills students screamed with delight as the Westchester County Police Aviation Unit circled the property in a Bell 407 helicopter and landed on the soccer field on PTA Truck Day in May.
Other highlights of the annual event included meeting police K-9 dogs and their human partners, climbing into a tractor and sitting in an ambulance.
First-grader Colin Garrett liked the helicopter best. "From far away it didn't look like much, but then up close it was really cool," he said.
The K-9 dogs were the favorites of fifth-grader Maggie Kearney. "All the dogs are so awesome," she said.
State Trooper Meredith Govoni brought in her partner K-9, Lexy, a German shepherd who lives with the trooper and is "the best partner I've ever had."
The PTA and District thank the Elmsford Fire Department; Empress Ambulance; Glen's Towing; Greenburgh Police Department and K-9 Unit; Mount Pleasant Police Department and K-9 Unit; New York State Police, and NYS Police K-9 Unit; Pocantico Hills Fire Department; Stone Barns;
Village of Sleepy Hollow Department of Public Works; and the Westchester County Police Aviation Unit.
Briarcliff Manor
Todd Art and Music Festival Showcases Talent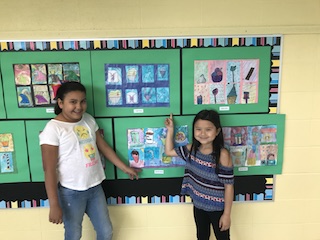 Students proudly showed off their artwork and impressed their families with their musical stylings at Todd Elementary School's annual Art and Music Festival in May.
The hallways of the Briarcliff Manor school were adorned with artwork, ranging from Mark Rothko-style painting and collage, to photorealism symmetry, texture animal collages, and cut-and-paste collages of sweets, treats, and patterns inspired by Andy Warhol, Eric Carle, and Wayne Thiebaud. The evening culminated in a concert featuring the school's talented young musicians.
BMS Wellness Day 2018 Celebrates Health and Happiness
BMS students and faculty members at Briarcliff Middle School worked to reduce the stresses of daily life at the school's annual Wellness Day in May. From juggling and coloring to stimulate the brain, to yoga and healthy-eating, from getting hands dirty and mindfully reducing/reusing/recycling, students practiced healthy habits and learned new ones.
Keynote speaker, Dr. Kris Felicello, talked to students about happiness. Felicello is a former teacher, coach, athletic director, assistant principal, middle school principal, assistant superintendent of human resources, and current assistant superintendent of educational services in the North Rockland Central School District.
The day ended with the traditional student staff Charity Basketball Game, currently raising funds in a campaign for global clean water projects. The day is made possible through collaboration among staff, administration, PTA, and community volunteers.
BMS Principal Susan Howard said, "I love the sense of community that we share on these special days."
Some of the teachers and staff who organized the day's activities include: Guida; Tillistrand; Muson; Quinn; Coxen; Meola; Craven; Piersons; Novick; Iovino; Jagielski, RN; Yulo; Goldstein; Moraitis; Samet; Perry; Murphy; Mollano-Diaz; Silverman; Shearer; Dubin; Sendek; Adams; Loprieno; Carnahan; Pellegrin; and Bucci.
BHS Student Wins Essay Contest in Celebration of Women's History Month
Briarcliff High School sophomore Stephanie Markowitz's essay, "Promote Gender Fairness in the Courts," was the top award winner for the annual contest sponsored by the Ninth Judicial District Committee in celebration of Women's History Month.
The 500-word or less essay contest is open to all students in accredited high schools in Westchester, Rockland, Putnam, Dutchess and Orange counties.  Markowitz was honored at a breakfast with Hon. Terry Jane Ruderman, BHS Principal Deb French, BHS English Teacher Julia Fernandez as well as her parents, elected officials including Catherine Borgia, Ken Jenkins, and other representatives from the Ninth District.
Past topics have included "The 100th Anniversary of the Women's Suffrage movement, Susan B. Anthony and the Women's Right to Vote in New York State in 1917," "Laws that Promoted Gender Equality: Have they been a blessing or a curse?" and support or opposition for a proposed program where women prisoners finish serving their sentences at home to, say defenders of the position, aid the stability and health of the family.
Ossining
Ossining Juniors Win Grand Award at Intel International Science and Engineering Fair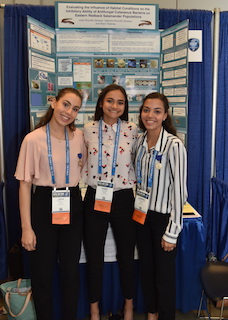 Three Ossining High School juniors received a special award at the Intel International Science and Engineering Fair for their research on eastern red-backed salamanders.
Twins Julia and Sabrina Piccirillo-Stosser and Kiara Taveras were among the Grand Award winners at the competition, which took place May 13-19 in Pittsburgh. The team won a Third Award of $1,000 in the Animal Sciences category.
The students studied why the eastern redback salamander is resistant to a fungal disease called Chytridiomycosis which has endangered many amphibian species. They were surprised to find that an increase in urbanization does not destroy the good bacterial communities that protect the salamanders, and that high nitrogen, phosphorous and potassium concentrations in soil at rural sites account for significantly fewer protective bacterial communities in those areas.
About 1,800 students from more than 75 countries, regions and territories compete each year in Intel ISEF, a program of the Society for Science & the Public.
Ossining's Simulation Experience Gives Educators Insights into Challenges of Poverty
During a poverty simulation experience at Ossining High School the first week of May, educators and community leaders role-played to learn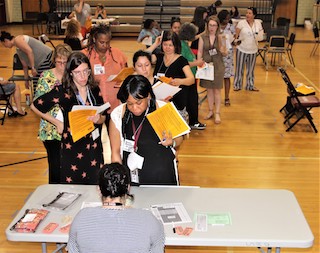 about some of the real-life struggles that families in need face every day.
Each "family" faced financial, health, legal and other challenges that created stress, anxiety, frustration and anger. They sacrificed phone service, critical medications, cars and food. They stood in long lines to cash checks, apply for social services, and shop for food. Seven families were evicted because they couldn't pay their rent or mortgage.
Claremont School Assistant Principal Ferzeen Shamsi took part in a role-playing exercise as part of the poverty simulation experience. The "family" received nametags for each member and a narrative, including finances, based on real-life situations. In Shamsi's narrative, her "brother" had ADHD and the family lacked insurance. The "grandmother" earned $9.50 an hour and the "grandfather" received $500 a month in disability benefits.
"This is highly stressful and incredibly sad," Shamsi said. "This is the reality for so many of our families."
The Ossining Staff Development Center sponsored the Community Action Poverty Simulation to promote understanding and awareness, and to initiate change, said kindergarten teacher Mary Catherine Hillman, the center director.
Ossining HS Junior State of America Club Wins Chapter of the Year Award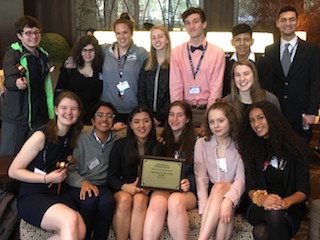 Students in Ossining High School's Junior State of America Club received the Northeast Junior State Chapter of the Year Award at the end of April, marking the second time in three years the Club received the honor.
The award goes to the chapter that excels in encouraging involvement in, and understanding of, the processes of democratic self-government, and participation in Junior State of America-sponsored programs.
"Our chapter is doing the best possible job of educating, involving and representing the youth of our school and community, and is living up to the goals of the JSA," said OHS social studies teacher Kara Burns, the Club's adviser.
The Junior State of America, similar to a debate club, is run by students. The OHS JSA, which has about 30 members, was also named Northeast Chapter of the Year in 2016.  Students Jacob Braunhut and Sarah Hoffman also received individual best speaker awards.
Senior Lexi Rudley, outgoing OHS JSA president, who earned 14 "best speaker gavel" awards for winning debates at conferences, said, "I like the Club for many reasons beyond the communications skills."
Ossining's "You've Been Booked" Campaign Builds Excitement for Reading
When 4-year-old Sam Cohen woke up on April 28, he found a canvas bag full of books hanging from the front door of his home with a sign inside that read, "We've been BOOKED!!!"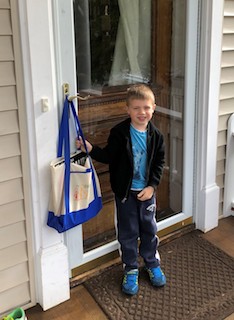 District staff members and volunteers made deliveries to families in the District's "Ossining Loves to Read" bookmobile and other vehicles. "You've Been Booked" is one of the latest initiatives of Ossining's busy ACTION (Acting Conscientiously to Ignite Opportunity Now) committee, which promotes literacy.  Families are asked to read, then share the books with the community.
From clothing drives to lending libraries and food pantries, the ACTION committee has lived up to its name since its formation in 2015.
ACTION recently launched a public collection for "Birthday in a Box" kits for children in need, which will include ingredients such as cake mix and frosting and a "Happy Birthday" banner which school social workers will present. Throughout May, the committee collected school supplies for the 2018-19 school year for needy students.
"No idea is too big or small," said parent Jessica Vecchiarelli, co-chairwoman of the committee. "We try to turn everything into ACTION!"
Irvington
Musicians Bash the Trash at Irvington's Dows Lane Elementary School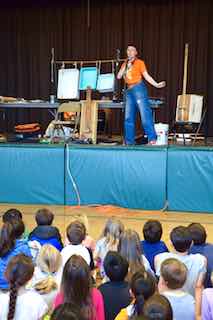 In celebration of Earth Day, students at Dows Lane Elementary School welcomed "Bash the Trash" musicians in May.
The husband-and-wife team of John Bertles and Carina Piaggio founded "Bash the Trash" in 1988, combining science, music and environmental awareness through performances and programs at schools, concert halls and other venues.
The duo plus one more musician demonstrated how to build instruments from reused and repurposed plastic bottles, coffee cans, cardboard tubes, pipes, refrigerator drawers and Styrofoam; showed sounds the objects make; and got students clapping to the beat.
"The limit is your imagination," Bertles said, challenging students to commit to keeping the Earth clean.
Principal Deb Mariniello said that students were inspired to take ownership of caring for the environment.
The event was made possible by an Irvington PTSA grant, spearheaded by teachers Warager, Nicole Cristofaro, Julie Giacomantonio and Colleen Sullivan, and the Dows Lane Character Building Committee.
Irvington Main Street School Students P.A.C.K. Healthy Snacks for Lunch
From apples to strawberries and broccoli to tomatoes, Main Street School students enjoyed a wide variety of healthy snacks for lunch during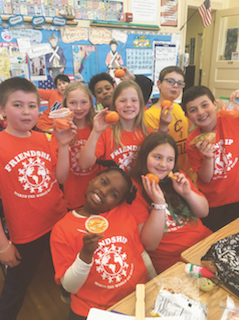 P.A.C.K. Week – Pack Assorted Colors for Kids Week, April 23-27.
"The focus of P.A.C.K. Week is to encourage students to eat more colorful fruits and vegetables, as each has its own nutritional benefits," said Principal Joyce Chapnick.
Each day was assigned a color, encouraging students to broaden their selection of fruits and vegetables. Red Monday brought in strawberries, red pepper slices, tomato wedges or red apples.
Yellow Tuesday yielded bananas and peaches. Purple Wednesday found students snacking on grapes, raisins and fresh blueberries. Orange Thursday produced baby carrots, dried apricots and orange slices. Green Friday brought celery sticks, broccoli and green apple snacks.
Chapnick thanked physical education teacher Laura Shaw for organizing the week and helping students "deepen their understanding of the benefits of healthy eating" and the Parent Advisory Council at Main Street for providing color-specific balloons each day.
Irvington High School Athletes Commit to Colleges
Twelve Irvington High School seniors announced their commitment to play sports at colleges across the country in the fall. Joined by administrators, coaches and parents, the students were recognized for their outstanding contributions to the school community.
Irvington High School Leaders Make A Positive Impact
Five Irvington High School students – sophomores Ben Birkhahn, Aidan Daly, Jack Grados, Josh Hunt and Janeeta Shaukat – attended the Youth to Youth Leadership Conference held in White Plains in April.
Students collaborated with other high school students and Youth to Youth International representatives, including renowned motivational speaker Ty Sells, to develop strategies for substance use prevention, and ways to make positive changes in the Irvington schools and community. They worked on leadership development, problem-solving skills and using data to design and implement programs.
"It was a very successful day overall with a great group of students," said Jennifer Nunziato, student assistance counselor and adviser of the Positive Impact Club, noting that students met with peers from all over the County as well as Youth to Youth adult speakers and youth staff.
Students created an action plan which addressed the underlying factors of stress and peer pressure that can contribute to increased alcohol, vape and other drug use among teens.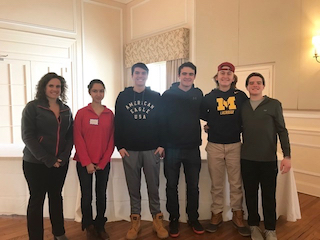 Irvington's participation in the conference was arranged and sponsored by iASK-CAB (Irvington About Safe Kids – Community Advisory Board), a coalition that represents all sectors of the community and works to motivate youth to make healthy and responsible decisions.