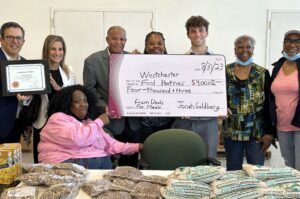 From a young age, Jonah Goldberg has been passionate about making positive strides against food insecurity. Now a senior at Irvington High School, Goldberg is putting his desire for social action to good use.   
Over the past year, he has been operating a business – in which he nets $0 for himself – called Deals for Meals, which raises money by selling donated, used sports equipment to local community members. The money raised is then redistributed to local food pantries to further aid those in need in the Westchester community.  
"It goes overlooked because of the area's high cost of living, but there's a whole group of people in [Westchester] that need help," said Goldberg. "During the pandemic, I got involved in volunteer work at food pantries such as Feeding Westchester. Being interested in business and finance as well, I decided to combine my business and entrepreneurial minds to launch Deals for Meals."  
While the primary goal of the business was initially to raise money to provide to local food pantries – these include $2,000 to WestCOP, $1,000 to the Community Food Pantry of Sleepy Hollow and Tarrytown, and $500 to the food pantry at the Thomas H. Slater Center – Goldberg has also made a noticeable impact on the athletic side of his business. The sports equipment that he sells for a very low price goes a long way in giving children access to pursuing their sporting interests. For example, a pair of cleats can be sold for a mere $5 through his business.  
But he has also given away some of the donated sports equipment free of charge, because money is at the bottom of the list of his motivators here. He genuinely wants to make sure he is making the lives of others easier. A prime instance was recently at the Rotary Club of the Tarrytowns.  
When a woman approached Goldberg and explained how much good he was doing for the community, Goldberg took it upon himself to give the woman and her family free soccer and rollerblading equipment, upon hearing that the family was in need.  
Set to graduate from Irvington High School in 2024, Goldberg has put his entrepreneurial spirit to work in his final year before leaving for college. By partnering with local farmers markets and flea markets, the business has locations to operate out of for no cost. This way the business is helping the community economically, but also not causing any financial loss for Goldberg.  
Volunteering in his community is something he's been an advocate for, and this appears to be something Goldberg will continue to do throughout his life.  
"It's great to represent the youth making an impact because I see the direct impact that I am able to make to the community at large," he said. "It's also great that I am posing as a role model for the next generation; not everything has to be about money, and likewise, it's important to benefit the community and stay true to your roots."  
A year from now, Goldberg will be off to college, making his day-to-day presence in Westchester a lot less frequent. But the impact he's made on the community has already been established. It's seen in the joy of families and children across the county who now have access to food and sports equipment they would not otherwise have.