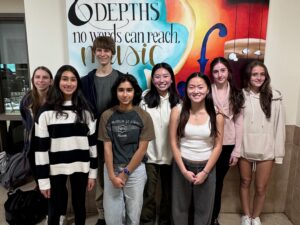 A group of talented Irvington High School students have been invited to perform with the Westchester County School Music Association's Area All-State ensembles for its 2023 festival concert on Nov. 4-5.
Performing with the string orchestra are sophomore Lucy Acharekar (viola), and juniors Kian Vasudev (cello), Alyssum Wong (violin) and Michelle Zhou (violin). Performing with the symphony orchestra are senior Felix Nolan (bass), junior Shaleen Thaker (cello) and sophomores Simran Jain (cello) and Lila Nolan (bass). Performing with the treble chorus are senior Ana Bjorgvinsson (alto 2) and junior Gabriella Brenner (alto 2).
"These students are extremely talented and dedicated," said Debra McCumber, high school band director and music department chair. "It is such an honor to be accepted to this program."
WCSMA is a county unit of the New York State School Music Association and the National Association for Music Educators. The students were chosen by audition at last spring's NYSSMA Solo Festival. The highest-scoring students at the festival are invited to apply to participate in the Area All-State music ensembles.
Performances will be held at New Rochelle High School on Nov. 4-5. To purchase tickets for the performances, please visit https://westchestercountyschoolmu.simpletix.com/.