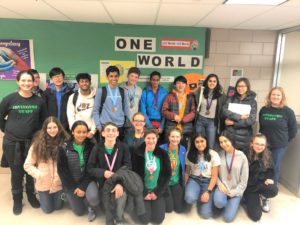 Twelve members of the Irvington High School Science Olympiad Club earned multiple medals when they competed at the annual regional Science Olympiad, held at Byram Hills High School on February 2.
"We are tremendously proud of the growth our team has shown since their first year," said Jessica Forman and Amy Ma, co-advisers of the club, noting that Irvington students earned medals in 10 out of 20 events.
This was the high school's second year competing at the Science Olympiad. The program provides an opportunity for students to challenge themselves in a variety of science disciplines while having fun and working collaboratively with their peers.
Congratulations to the following students who received medals at the Science Olympiad:
Rishikesh Madabhushi and Esha Shenoy: first place in the Chemistry Lab; Henry Demarest and Rishikesh Madabhushi: sixth place in Thermodynamics; Emelyn Juenger: seventh place in Mousetrap Vehicle; Anshuman Das, Henry Demarest and Eesha Thaker: eighth place in Codebusters;       Anika Manchanda and Esha Shenoy: eighth place in Dynamic Planet; Anshuman Das and Jerry Wu: eighth place in Fossils; Aeka Tomita and Jerry Wu: ninth place in Boomilever;     Eadin Block and Rebecca Strauss: ninth place in Write It/Do It; Katharine McLaughlin and Aeka Tomita: tenth place in Anatomy and Physiology; Anika Manchanda and Esha Shenoy: tenth place in Geologic Mapping.
Members of the Science Olympiad Club include Richard Ackerman, Isabella Berger, Eadin Block, Aldo Bushati, Anshuman Das, Henry Demarest, Brooke Dunefsky, Rishit Gupta, Emelyn Juenger, Arielle Kolodzinski, Audrey Kundu, Allison Lyubomirskaya, Rishikesh Madabhushi, Anika Manchanda, Katharine McLaughlin, Hannah Monack, Alicia Sang, Esha Shenoy, Rebecca Strauss, Eesha Thaker, Aeka Tomita, Chrysmine Wong, Reinesse Wong, Jerry Wu, Michael Yu and Robert Yun.