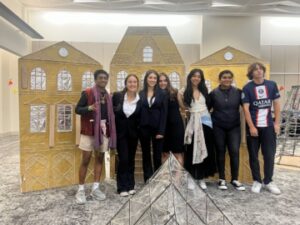 The 2023 Destination Imagination Global Finals (DIGF) showcased an impressive display of innovation, creativity, and teamwork from talented student teams around the world. The event, held in a buzzing atmosphere of excitement and anticipation, culminated in an unforgettable experience for participants and spectators alike.  
Among the standout teams was Super Sonic Six, led by Team Manager Neepa  Biswas Das, representing Walter Panas High School with exceptional problem-solving abilities and imaginative thinking. Super Sonic Six is comprised of seven dedicated and resourceful students – Amy Nicolas, Ronak Das, Romina Coppolecchia, Abigail Ocampo, Emily Barraza, Jade Arunkumar, TJ Sayers.   
The team prepared for the finals for six months during evenings and weekends. Their work paid off as they qualified through both regional and state contests before competing at the finals in Kansas City, Missouri. 
In a series of mind-bending challenges, Super Sonic Six demonstrated unwavering determination, collaboration, and out-of-the-box ideas. From a hand-built, 14-foot roller coaster to magnificent hand-painted backdrops, and famous Parisian landmarks created with upcycled materials, to a musical piano soundtrack performed by one of the members, the Panas students impressed judges and other competitors as they combined technical expertise with artistic flair.  
Super Sonic Six secured an exceptional overall rank of 8th place for the Engineering Challenge Secondary category. Their "Thrill Ride" solution showcased their ingenuity and adaptability. In all, the team pushed boundaries by integrating cutting-edge technology, captivating storytelling, and impressive design elements to create an immersive and memorable experience. 
Lakeland Central School District applauds Super Sonic Six for their achievements at the 2023 Destination Imagination Global Finals. 
Sara Barazza is the parent of a Super Sonic Six member.