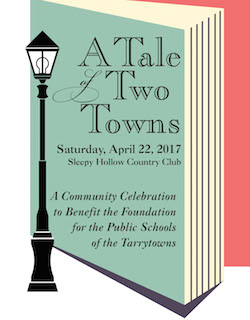 On Saturday, April 22, the Foundation for the Public Schools of the Tarrytowns will host its Annual Benefit, this year named, "A Tale of Two Towns." The event will be held from 7pm to midnight at Sleepy Hollow Country Club. The gala event is one of the largest fundraisers for the Foundation, featuring live and silent auctions, a raffle, as well as additional giving opportunities.
The Annual Benefit, formerly known as the Dinner Dance, is a much-anticipated event, typically bringing nearly 400 guests out for a lively evening of delicious food, cocktails, and dancing. As the entire District is invited, the evening has always been a social scene, bringing together friends, teachers, and community supporters.
A Tale of Two Towns will celebrate the many businesses in the Tarrytown and Sleepy Hollow communities that have supported the School District and the Foundation in the past. There are countless businesses and sole proprietors that have given their time, donated their goods and services, offered their windows for advertising, and provided positive one-on-one interactions with our students.
The businesses will be represented at the event in a variety of ways, including various artwork from students. The centerpieces and decor will be comprised of artwork inspired by the scenes in Tarrytown and Sleepy Hollow: Main Street, Broadway, Beekman Avenue, the Hudson River, etc. Students will use photography, "papier mâché," paint, and 3D models to express their impressions of what makes the Two Towns so special.
"The community here is truly one-of-a-kind," says Jan Atkinson, Co-Chair of the Annual Benefit Committee and Co-President of the Board of Directors of the Foundation for the Public Schools of the Tarrytowns. "The kind of support and camaraderie we see between businesses and schools is incredible, and, in turn, helps our students."
Teachers, faculty, coaches, and administrators have come to really appreciate the contributions of the local businesses. Many activities within the arts and music curriculum include presentations and partnerships with organizations like the JCC-on-the-Hudson and Jilly Puppets; the athletic department counts on donations and affordable post-game snacks from restaurants and organizations like JP Doyle's, C-Town, the Sleepy Hollow Fire & Police Departments, and the DoubleTree Tarrytown.
Many events and programs (car washes, after-school programs, etc.) would not happen without the support of A Nu Toy Store, Goldberg's, Greenfield Plumbing and Heating, Family YMCA at Tarrytown, and RSHM Life Center.
Students are also offered internship and research opportunities from businesses such as Sleepy Hollow Animal Hospital, Regeneron, and Sleepy Hollow Ambulance Corps, and can apply for scholarships from AYSO, Chamber of Commerce, Kids Club, Rivertown Runners, Solomon's Lodge, Tarrytown Seniors, and TNT Baseball/Basketball.
Many businesses have also supported the Foundation's programs and events with sponsorship. At the time of writing, A Tale of Two Towns has already garnered support from top sponsor, William Raveis Legends Realty Group, as well as Allan Block Insurance Agency, eDoctrina Corporation, Phelps Hospital, and Sleepy Hollow Animal Hospital.
The Foundation, a not-for-profit 501(c)(3), was established in 1993 to encourage and enhance academics, athletics, the arts and technology in our schools. Dedicated to procuring outside resources to benefit students, the Foundation solicits grants from public and private sources, individual donations and in-kind services, and cultivates partnerships with local businesses, corporations, and community-based organizations.
For more information about A Tale of Two Towns, including ticket sales and sponsorship opportunities, please contact the Foundation Office by emailing foundation@tufsd.org or calling 914-366-8457. Tickets and sponsorship are also available online at www.tarrytownschoolsfoundation.org.