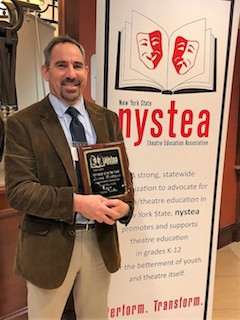 This has been a time of accolades and honors for local school districts – youngsters who impressed at spelling bees; cheerleaders who made history by qualifying for a major national competition; a school superintendent honored statewide; a senior awarded for her stellar research. It's also been a time for exploring and learning about new and familiar things in novel ways – coding, slimy oobleck, augmented reality, beloved books, stomp rockets, magnets – and beyond.
It has also been a time of growing and becoming, transitioning into the person you will be – someone who cares about the environment and takes steps to improve it, who creates ways to help persons with physical challenges, who begins to choreograph and trains groups of dancers. Applause all around, and not just to the winners and stars, but to all — our administrators, our teachers, and our tremendous students!
Briarcliff
Briarcliff Manor Superintendent James Kaishian Receives NYS Theater Education Administrator of the Year Award
Photo: Superintendent James Kaishian
Congrats to Briarcliff Manor Superintendent Dr. James Kaishian for receiving the New York State Theater Education Association (NYSTEA) Administrator of the Year award at the organization's 21st annual conference held the weekend of January 5-7 at the Villa Roma Resort in Callicoon, New York.  Under the direction of BHS English teacher Jamie Mandel and Theatre Director Ian Driver, fifteen student conference delegates from Briarcliff High School attended.
NYSTEA, a statewide organization of theatre educators, promotes and supports theatre education for students in grades pre-K through 12. The annual conference creates an opportunity for approximately 800 high school students from NYS to come together for a full weekend of learning and peer interaction.
Kaishian accepted the award and sang "Can You Feel the Love Tonight" with the students in attendance on Friday night (due to a winter storm, BHS students didn't arrive until Saturday morning).
Mandel said, "Meeting and sharing interests with other similarly-minded students from every region of the State is paramount in working collaboratively, gaining self-confidence and exploring new areas of learning. This conference is a testament to the fact that: theatre transforms students' lives!"
She also praised Dr. Kaishian, pointing out that he "embodies multiple talents, all of which benefit the performing arts department. He imbues his staff with confidence while still challenging us to be innovative . . . Over the years and through the budget cuts, Jim has kept our program vibrant."
Historic First: BHS Cheerleaders Go to Nationals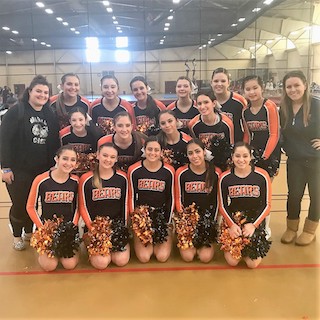 The Briarcliff Manor cheerleading team's success started in August when they took home the Game Day Championship from Pine Forest Cheerleading Camp. Next, at the regional competition in the Poconos this winter, the team was awarded a qualifying bid to participate in the National High School Cheerleading Championship (NHSCC), the most prestigious such competition nationwide, held February 10 and 11.
Head coach Stephanie Georgioudakis noted the historic triumph: this is the first time the team has competed alongside other highly ranked and qualified teams in the nation.
The NHSCC is held at the Walt Disney World Resort in Orlando, Florida, and nationally televised on ESPN and ESPN2 to over 100 million homes and 32 countries each year, and streamed live on Varsity TV on Varsity.com.
Coach Georgioudakis explained that the team received first place overall, first place for their sideline and second place for the cheer aspect of the routine performed at UCA camp last summer. "Due to this success and hoping it would yield a qualifying bid to NHSCC, the team decided to compete at a qualifying event and it did!"
The BHS cheerleading team in the nationals includes: Seniors: Frankie Paone (captain), Rebeka Walker (captain), Lindsey Heier (captain), Valentina Ramirez. Juniors: Tabitha Birch, Danielle Jacoby, Katherine Olson. Sophomores: Abby DeGasperis, Sarah Maganello, Delia Fraietta, Willow Horowitz, Rachel Sukonnik, Stefanie Lo Bella, Lindsay Flores, and eighth grader Sonia Giusti.
BHS and BMS students Celebrate the Hour of Code
The Hour of Code, a national and global effort, began as a one-hour introduction to computer science, designed to demystify code, show that anyone can learn the basics, and broaden participation in the field of computer science. The program helps nurture problem-solving skills, logic and creativity. By laying the groundwork early, students have a foundation for success in any 21st-century career path.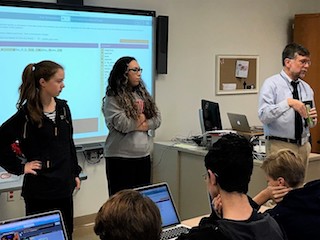 Briarcliff Manor High School math and computer science teacher J.P. Fasano and eighth grade science teacher Tamara Zimmer recently combined classes and participated in the Hour of Code.
Zimmer explained, "We worked on a text compression project with the goal of reducing the amount of space a file takes to save . . . Through this experience . . .  [students] are more inclined to fit in a computer science class."
Senior Emily Sam-Zee-Moi, who plans to study forensics in college said, "I took computer science to round out my schedule and realized then it was relevant to my interests . . ."
Senior Emilie Mazzola noted that the computer science offerings at Briarcliff Manor provide options inside and outside the classroom for students interested in coding, including a JAVA class, computer science or engineering, and AP computer science.
"And . . . there's the tech crew experience which is hands-on and all about problem solving," said Mazzola.
Author Marc Brown Visits Todd School in Briarcliff Manor
In early December, thanks to the PTA and Librarian Tara Phethean, Todd Elementary School students were charmed once again with a visit by children's book author Marc Brown, the creator of Arthur, the character in the popular book series and inspiration for the PBS series.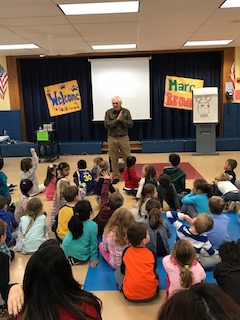 Kindergarten, first, and second-grade students prepared for Brown's visit by reading several Arthur books. Brown taught them how to draw many of his well-loved characters, each of whom is based on his siblings, including three sisters who make up the infamous D.W. and friends from childhood. He showed them a short film and answered such questions as:
"What is Arthur's favorite food?" "Pizza – the same as mine!"
"When will Arthur grow up?" "Great question!
Never!"
"Where do you live?" "Martha's Vineyard."
The last answer particularly delighted the kids, as many have been to the island.
The best reaction of the day came when he told students that he started writing in the third grade, and declared, "You're all authors already!
Tarrytown
Tarrytown's Student Art on Display at the Warner Library
Washington Irving students, who used their creative talents and math skills to learn more about history, are seeing some of their work on display in the Children's Room at Tarrytown's Warner Library through February 21.
Third graders designed sections of Ancient Egyptian murals by drawing their favorite characters and adding hieroglyphics.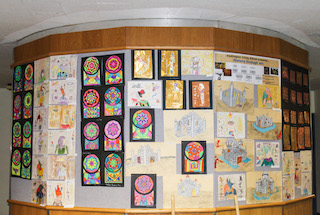 Fourth graders created simulated stained-glass windows inspired by medieval rose windows in Gothic architecture, a decorated circular window, often glazed to color the glass. The students used neon markers and pastels to create the effect.
Fifth graders examined the symbols of Egypt and drew medieval castles using oil pastels which helped them learn more about texture and dimension.
Art teacher Susan Barrett wanted the children to think about the bigger picture. "We traveled from ancient Egypt through the middle ages, comparing and contrasting these cultures to our own," Barrett said. "We learned that technology isn't new; it has been evolving throughout history."
Third-grader Maeve Yox and fifth-grader Jazzy Matthews were among the students proud to see their work selected for display.
Fifth grader Clio Siegel said, "We have a special community where we can share what we made."
Newsies, Jr. Comes to Tarrytown!
Sleepy Hollow Middle School students made history when they became one of the first schools to perform Newsies, Jr., based on the Broadway hit that tells the story of children known as "news kids" who sold newspapers at the turn of the 20th century and then went on strike against the unfair policies of publisher Joseph Pulitzer.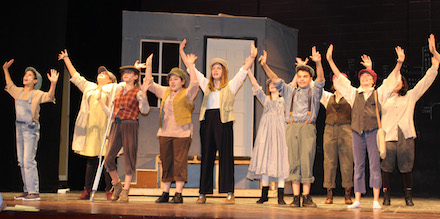 "We are proud and honored to be among those chosen to pilot Newsies, Jr., adapted for Middle School actors and audiences," said Director Peter Royston. The school was selected by Disney Theatrical.
"What is great about this production is that the kids know this show very well." Royston explained. "They are coming in with their own suggestions. They have ownership over the show, over their characters."
Eighth graders Bianca Vercesi and Olivia Hille shared the role of the main character, Jack Kelly. Vercesi noted that the show demonstrates that "Looks don't matter. It doesn't affect what kind of a person you really are."
Hille agreed the play has a strong message. "It shows that all these newsies get together as one, and fight evil. If you just stay together, so much is possible," she said.
Eighth grader Matthew Anderson, who coordinated part of a dance routine, said, "It is a real sense of community." SHHS 11th grader Eliza Grose contributed choreography for several songs in the show. About a dozen other middle schoolers helped design the sets and costumes as part of the Theater Design Workshop.
Professional designers Stewart Lee and her husband Joel Sherry, who have been involved with Sleepy Hollow productions for years, took on a more structured role with the children.
"They are learning, and they don't even know it, and they get to be creative," said Stewart Lee. "Design is problem solving."
Sleepy Hollow Middle School Students See the World Through Augmented Reality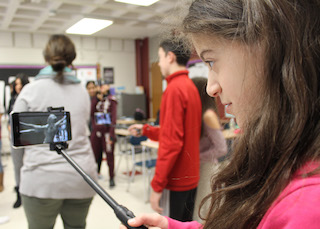 On January 3, Sleepy Hollow Middle School seventh graders traveled around the world – visiting Rome and seeing some of the greatest inventions in history – without leaving their classroom, when about a dozen social studies classes took part in the Google Augmented Reality Expedition.
The high-tech learning method had students walk around with a smart phone equipped with a new Google app. When they looked at the screen, in addition to classroom surroundings, they saw images programmed into their phones. They explored and discovered the works of Leonardo da Vinci and took a virtual tour of the Roman Colosseum. Instructors can use the app to enhance a current lesson or create a new one.
Social Studies teacher Caroline Doran said, "It is a great way of immersing the children into history. They get to experience it. They can look at it, they can get closer to it. View it from all different angles."
"It feels like it is actually here. It's fun," said seventh-grader Ywomie Mota.
Student Jack Rafter agreed. "It's cool. You can learn a lot more by seeing it."
The Tarrytown School District was invited to sign up for the pilot program that is taking place in classrooms across the country. Google is looking for feedback before launching its latest teaching tool.
Irvington
Irvington Environmental Club Members Lead Waste Reduction Program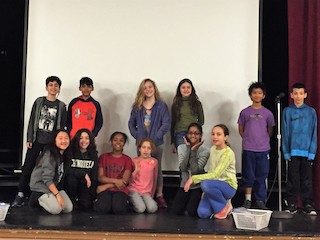 Members of the Environmental Club at Main Street School in Irvington are doing their part to reduce waste by educating their peers about the importance of recycling. During a schoolwide presentation on January 12, they shared ideas on what young people can do in school and beyond to help care for the environment.
Students led their peers in games, quizzes and a puzzle competition to test their knowledge about recycling and encourage them to be sustainable global citizens. They introduced solutions for reducing waste such as choosing reusable water bottles and recyclable lunch containers and taking shorter showers.
Working with the principal, the community and the school, club members have already reduced waste by 10-20 percent in classrooms, hallways and the cafeteria during the first year of the waste reduction program.
Main Street School Principal Joyce Chapnick said, "We are so fortunate to have such dedicated and passionate students leading our work around recycling and other environmental issues."
Led by fifth-grade teacher Giulietta Cangelosi, members of the Environmental Club are: Luke Armogan, Gabby Brenner, Shalin Chang, Allie Cloutman, Charlotte Fuchs, Minori Furtado, Jesse Gelman, Marlo Gordon, Rayna Gupta, Nicola Paul, Jeneva Preval, Jack Reichgott, Maggie Ho Tai and Sam Toeman.
Magnets Attract Irvington First-Graders to Science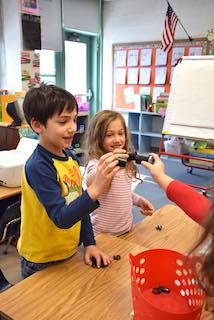 First-grade students at Dows Lane Elementary School in Irvington welcomed scientist Christopher Green to their classrooms from Jan. 8-10 for a science enrichment program on magnets, a culminating activity to the Properties of Matter unit.
Green presented the students with engaging examples of real-life magnets, their powers and uses, and taught them such vocabulary words as "pole," "attract," "repel," "horseshoe magnet" and "electromagnet." The children were challenged to make their own magnets and discover their properties.
"The students are thrilled to have Mr. Green visit and lead them in engaging explorations and activities, which are key to the learning process," said first-grade teacher Corinne Daniels.
Green will return to Dows Lane Elementary School for an Air and Weather science enrichment program in March, and a Life Cycle of Plants program in May. The programs are made possible through the Irvington Education Foundation.
Irvington's Spelling Bee Champions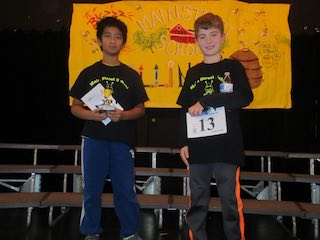 On January 10, following 10 rounds of Irvington Main Street School's 11th annual spelling bee championship for fourth and fifth-graders, thewinning title for fourth graders went to Chunghyun Kawata, with Jordana Laks as runner-up. Shalin Chang won after seven rounds of the fifth-grade spelling bee with Wilson Lark the runner-up.
During the pre-bee qualifying round in December, students were provided with a list of approximately 500 target words. Top scorers from each grade – 22 fourth-graders and 24 fifth-graders – were named finalists in the schoolwide spelling bee.
"We recognize and congratulate all of the students who took a risk to try for the spelling bee," Principal Joyce Chapnick said, and thanked the PTSA for sponsoring the event.
In case you're wondering: The fourth grade winning word was "dosage"; the fifth grade winning word was "boulevard."
Irvington Middle Schoolers Create Puzzle Prototypes for Cerebral Palsy Patients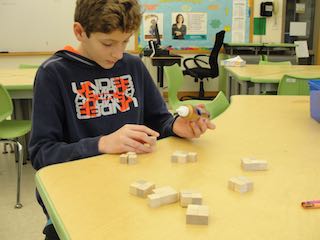 Irvington seventh-grade students in Marcus Oates' technology classes recently created therapeutic puzzle prototypes to help people diagnosed with cerebral palsy to develop fine and gross motor skills.
Working in teams, the students researched the medical condition and learned about its physical limitations and difficulties. They next created a set of criteria including ease of manipulation, sturdy construction and ease of assembly to keep in mind while designing and assessing their puzzles.
They sketched out preliminary designs, developed 3-D computer models, manufactured the prototype puzzles in their classroom, and created technical drawings with specifications for the size and shape of the different puzzle pieces needed.
"The students understood how ideas are created, developed, manufactured and refined to solve a problem in our world," Oates said. "This process is the foundation for innovation and invention."
He hoped that his students gained a better understanding of the world around them and a passion for exploring how they could have a positive impact on people's lives.
"Project-based learning is one of the best ways to prepare someone for life," Oates said.
Ossining
Ossining Students Take Part in Curious-on-Hudson, First Interactive Saturday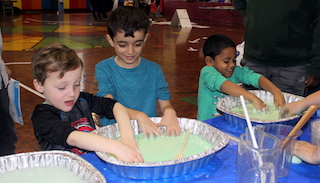 At Curious-on-Hudson on January 13, the first of three Interactive Saturdays at Park School in Ossining, parents helped children as they connected life-size dominoes; played with gooey oobleck; built and launched stomp rockets; and used their bodies to conduct electricity.
At the Identified Flying Objects (IFO) station, parents helped children blow up balloons and tape objects such as plastic cups to them, then placed the IFO over a homemade wind-tunnel in hopes that it would hover.
Parent Jeff Ho noted that the program reinforced classroom learning and enabled his son, Kam Ho-Santana, to interact with friends outside of class.
"There's always something supporting the curriculum," he said.
Kindergartener Benjamin Stromsvold said he enjoyed immersing his hands in and squeezing green oobleck, "because it's so slimy." Oobleck is a mixture of corn starch and water with food coloring that has properties of solids and liquids.
The second Interactive Saturday was on February 3, and the next one is scheduled for March 3.
Ossining High School Student Is Among 40 Finalists in National Science Competition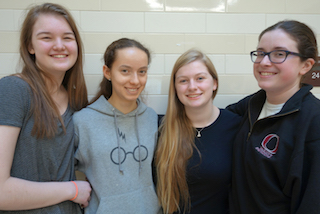 Ossining High School student Skyler Jones is one of 40 finalists in the Regeneron Science Talent Search, a prestigious national math and science competition.
Regeneron and the Society for Science & the Public announced the finalists in January. The students will travel to Washington in March to compete for more than $1.8 million in awards. Each finalist receives at least $25,000.
Skyler studied the use of perovskite crystals as semiconductors in solar cells, the parts of the solar panels that convert sunlight into electricity. They are more efficient and less expensive than the industry standard, silicon solar cells, and don't have to be as pure.
Skyler explained that her research shows why perovskites can perform nearly as well as silicon at a fraction of the cost. She noted, "This will help developers to optimize perovskite solar cell efficiencies and develop new semiconductor materials with the same charge carrier protection mechanisms."
Skyler, who will attend Massachusetts Institute of Technology next year, is one of five finalists from New York and the only one from Westchester County. "If you closed your eyes and forgot the fact that she's a high school kid, you'd think you were speaking to someone with a Ph.D.," Science Research Program teacher Angelo Piccirillo said.
Since 2001, 68 OHS students have been selected as semifinalists; Skyler is the fourth finalist.  OHS had four semifinalists this year out of 300. The other three are seniors Sarah Hoffman, Catherine Kamp and Emma San Martin.
Ossining Park School Students to Participate in Teatown's New "Grow Wild Outside" Program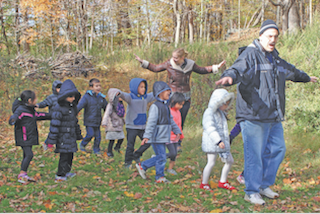 The Westchester County Youth Bureau has awarded Teatown a $30,000 grant for Grow Wild Outside, an after-school and summer science enrichment program for Ossining kindergarteners. The grant allows 50 students to participate during the school year and 40 in the summer.
Grow Wild Outside sparks children's innate curiosity about nature and engages them in hands-on activities that foster ecological literacy and increase school readiness and academic success in STEM (Science, Technology, Engineering and Math).  Activities include visits with animals, discovery walks and science investigations.
"We are very excited about the opportunity," said Raymond Sanchez, Ossining Schools superintendent. "We have a strong relationship with Teatown, and I know this funding will lead to an enriching program for our Park students."
"Grow Wild Outside enables Teatown educators to further our commitment and mission 'to inspire our community to lifelong environmental stewardship,'" said Phyllis Bock, education director at the 1,000-acre preserve in Ossining.