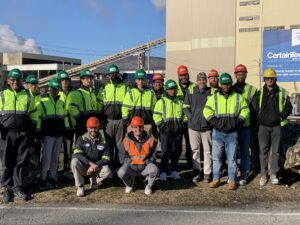 Hendrick Hudson High School's Project Lead the Way (PLTW) Principles of Engineering students visited the CertainTeed Dry Wall manufacturing plant in Buchanan, where they learned how a manufacturing facility operates.
The visit was hosted by Plant Manager Paul Woolweaver and HR Generalist Tamika Moore. Woolweaver provided the students with an overview of the plant's manufacturing processes and introduced them to members of the engineering team.
Students were treated to a complete tour of the facility, from the area where raw materials arrive to where finished product is loaded onto trucks for distribution. In addition to taking in the complexity of a busy factory, students observed mechanical, electrical, computer, and robotic systems, quality control sensors, chemical and thermal processing equipment, as well as the engineers, technicians, and operators who keep all those systems running.
***
A group of engineers spoke with the students about college planning, gaining real-world work experience and what employers look for during job interviews.
"It was this knowledge that the students seemed to feel was the most valuable part of the trip," said PLTW teacher Alan Zollner.
Sophomore Lucas O'Connor said, "We got a good idea of the different types of engineering, which gave us a better idea of what we might be doing in our future careers."
CertainTeed is one of the newer members of the PLTW Community Partnership Team. The high school's PLTW tracks in engineering, computer science and biomedical science help students develop in-demand knowledge and skills that they will use both in school and for the rest of their lives. Students engage in problem-solving, develop technical knowledge and communication skills, and explore career opportunities. Hendrick Hudson High School is the only school in New York State named a PLTW Distinguished School for five consecutive years.