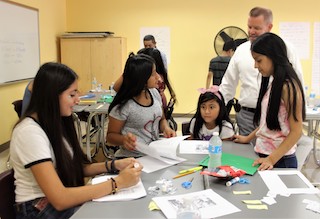 If you're wondering, "Where or where did the summer of 2018 go?" – you're not alone – seems we blinked and poof, it was gone! Fortunately, the students and teachers at our schools know exactly where it went and how well the brief time was spent as they found creative and innovative ways to keep the learning going strong and have tons of fun in the process.
Photo: Craig Dreves, AMD Summer Academy co-principal, guides ENL students as they work to solve a mystery.
Students learned about Adobe Photoshop, 3D printing, web design, robotics, coding, photography, how to solve mysteries while bolstering language and math skills, how to fashion catapults from popsicle sticks and much more – some even won awards in a nationwide competition sponsored by the NAACP, or raised money for a cause.  Faculty and administrators were just as busy – a teacher volunteered her time to teach students in Kenya, others enhanced their credentials, new administrators came aboard and were warmly welcomed. All systems are poised and ready to go for a spectacular 2018-2019!
Ossining
Learning Starts and Ends with Mysteries at Ossining's AMD Summer Academy
More than 100 students learned about English/language arts and math this summer at Ossining's AMD Summer Academy by reading and writing mysteries and cracking codes as they gained knowledge of foreshadowing, cliffhangers, integers, fractions and other topics.
On August 2, participants shared their work with their families at Ossining High School, where the program took place.
"We're really hoping that this is a nice springboard … for them to be successful in the next year," math teacher Rebecca Sutton told parents.
Attendance and academic improvement were impressive, said Elizabeth Mercado, academy co-principal along with Craig Dreves and Dean Parker, all AMD assistant principals.
"Their writing improved dramatically. The best part is they had fun while doing it," Mercado said. "The growth was unbelievable."
Ten-year-old Ivan Diaz worked on cracking numerical codes to find out which "suspect" committed a crime.
"When I learn in school, math is hard for me," he said. "Now it's easy and fun."
Students in the English as a New Language (ENL) class focused on mysteries and worked on spelling. They rearranged a paper "jigsaw puzzle" at the end of the story to get clues about the guilty party.
"I like to learn English and I like to solve mysteries," 13-year-old Nayeli Merchan said.
Ossining Students Learn All from Coding to 3D Printing at Summer Innovation Academy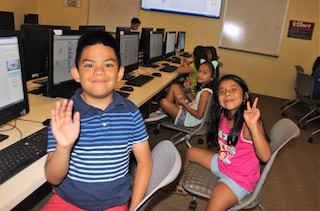 About 90 Ossining students learned the basics of digital imaging, 3D printing, computer-aided design and coding in the school district's annual Summer Innovation Academy held at Anne M. Dorner Middle School.
Children entering grades 3-8 in the fall took part in the enrichment program, whose goals are to develop critical-thinking and problem-solving skills, and to encourage creativity and innovation.
"Our students have been excited to try new things and experiment with technology to create some really interesting projects," said Academy Director Bradley Morrison, the District's director of cultural arts.
Studying with Ossining teacher Ron Whitehead, students used Adobe Photoshop to add creative touches to photos they took. Kamil Balsara, 11, and Frank Murphy, 10, superimposed an American flag over one of their photos.
Murphy said, "We're learning … at a young age, so we can be more advanced in the future," he said.
Olivia Wallace, 9, who added color to a black-and-white photo said, "I like how you can change things on the computer …"
In one of Ossining teacher Paul Sherman's classes, younger children learned to animate their names using Scratch, a free programming language, while older peers designed games on Scratch and used Makey-Makey devices to create controllers. Circuits allow users to create keyboards from everyday items like Play-Doh and aluminum foil.
In teacher Zachary Yonkler's 3D printing class, students learned the principles of design and the basics of computer-aided design through TinkerCAD software.
Soenh Mckenzie, 11, who printed from Fortnite, his favorite video game said, "You get to choose anything that you want to print."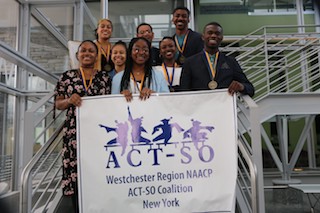 Ossining Students Receive NAACP Awards for Scholastic and Artistic Excellence
Two Ossining High School students were honored for their accomplishments in photography and science at the recent NAACP ACT-SO (Afro-Academic, Cultural, Technological and Scientific Olympics) competition held July 12-15 in San Antonio, Texas during the NAACP's 109th National Convention. More than 700 students from around the country attended the 40th annual ACT-SO event.
Ossining junior Brigitte Alberghini-Davis came in second in photography for a photo of her grandfather; senior Kellen Cooks earned gold in the Earth and Space Sciences category for research on urban perceptions of graffiti and street art.
Alberghini-Davis and Cooks were among eight Westchester County students who received gold medals in the Westchester ACT-SO regional competition in April and advanced to national ACT-SO. OHS sophomore Federico Grullon who won a gold medal in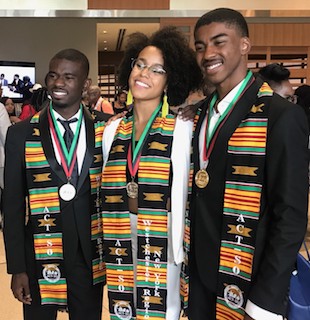 entrepreneurship at the regional level also competed in Texas.
ACT-SO is a yearlong achievement program designed to recruit, stimulate and encourage high academic and cultural achievement among African-American high school students. There are 32 categories in humanities; business; STEM (science, technology, engineering and math); and performing, visual and culinary arts.
Ossining High School Teacher Receives National Board Certification
Ossining High School English as a New Language (ENL) teacher Terry Velez-DeLeon recently obtained her National Board Certification.
She was one of 118 teachers across New York to receive the certification in 2017, according to the NYS United Teachers union bringing the total number of New York teachers with the certification to 1,912. Candidates must meet rigorous standards to obtain the designation.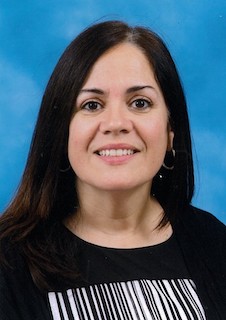 "The process challenged me to really dissect my practice and to find evidence that what I'm doing has an impact on students," said DeLeon, who lives in Rockland County and has taught in Ossining for 10 years.
DeLeon was a teacher in the Bronx for many years before becoming a Roosevelt School dual-language Spanish teacher, then moving to the high school three years ago. In her current role, she is a Spanish TASC – Test Assessing Secondary Completion – teacher, preparing students for the exam. She also helps run the Success Center, where she supports Spanish-speaking students learning English as a new language.
Said DeLeon, "… It's about building relationships with our kids … I try my best to convince them that they can achieve this."
Briarcliff Manor
A Briarcliff Manor Eighth Grade Project Benefits The Leukemia & Lymphoma Society
Rising Briarcliff Manor freshman Robbie Beard took his Eighth Grade Personal Project to the next level when he turned it into a fundraiser for The Leukemia & Lymphoma Society (LLS) – a move that resulted in an invite to lunch from LLS CEO Dr. Louis J. DeGennaro, Ph.D. at the LLS headquarters in Rye Brook.
Beard's project, "Halloween in June," was inspired by his passion about Gemmy Industries, his massive collection of their inflatable products, and his desire to learn more about the company.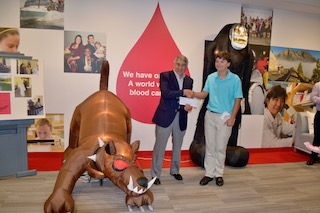 Mary Ann McMorrow, BMS 8th Grade ELA/ Special Education teacher explained, "Robbie decided to take his project one step further and created a truly magical and teachable moment. He wanted to do something more than just a research project, he wanted to make a difference in someone's life and world."
Using his Gemmy Industries inflatables, Beard organized a Halloween-themed fundraiser which he titled "Take a Bite Out of Blood" and donated all proceeds to the LLS.
Dr. DeGennaro invited Robbie to the Society's headquarters to display a few of his inflatables and speak about "Halloween in June" at a luncheon attended by the entire 80-person LLS staff. Beard presented Dr. DeGennaro with a money order for $250 which he raised. Sharing examples of other grassroots initiatives to benefit The Leukemia & Lymphoma Society which have become regular events, Dr. DeGennaro suggested that "Halloween in June" might become the next annual feature.
McMorrow added, "We are so very proud of Robbie and his empathetic endeavors to make a difference in the Briarcliff Manor community and in the world!"
Briarcliff Manor's Fridakis Selected for New York State Public High School Athletic Association 2018-19 Student-Athlete Advisory Committee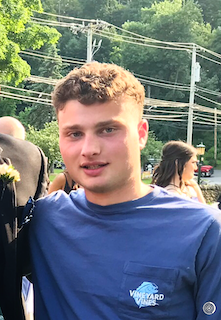 BHS senior Jacob Fridakis was among the 14 new and eight returning student athletes named to The New York State Public High School Athletic Association (NYSPHSAA) 2018-19 Student-Athlete Advisory Committee (SAAC) from the over 60 that sought membership. The committee is comprised of two student-athlete representatives (one male and one female) from each of the 11 sections in New York State.
Upon learning that he had been selected, Fridakis said, ". . . Briarcliff has accomplished so much in sports for such a small school and I would like to share the positive things I have gained and learned . . . I am really excited to work with this committee and am grateful for this fantastic opportunity."
Briarcliff Director of Athletics Chris Drosopoulos added, "Jacob is incredibly hardworking and always manages to foster positive discussions. He is the quintessential scholar-athlete."
One of the primary goals of the SAAC this year will be to create a mental health initiative to help student-athletes around the State who confront mental health issues.
Briarcliff Manor's Todd School Welcomes New Principal: Colleen O'Neill-Mangan
The Board of Briarcliff Manor has accepted the recommendation of Superintendent Dr. James Kaishian to appoint Colleen O'Neill-Mangan as the new principal of Todd Elementary School.
O'Neill-Mangan was the assistant principal at Fox Meadow Elementary School, part of the Scarsdale schools, where she served since 2006. She brings a wealth of experience as a school leader, especially in the areas of curriculum and instruction, scheduling and planning, building health and safety, and parent and student relations.
She formerly served in various classroom teacher roles in the Yorktown Central School District including kindergarten, first grade and multi-age first/second grade classes, as well as in an enrichment specialist position. She holds a Master of Science in educational leadership, administration and policy, a Master of Science in early childhood education from Fordham University, and a B.S. in behavioral science with a minor in elementary education from Mercy College.
The search for Nadine McDermott's successor was extensive, involving a comprehensive screening process that included two rounds of resumé collections and preliminary interviews with Dr. Kaishian, members of the administrative team, as well as parents, staff, teachers, and building level leaders.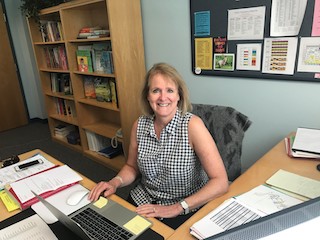 O'Neill-Mangan 's colleagues and supervisors describe her as a "humble yet determined school leader with the ability to inspire students and staff while also ensuring that the trains run on time." She is praised for her compassion, work ethic and relationships with students, parents and the school community.
"It became clear that Mrs. O'Neill-Mangan is the right candidate for Todd," said Dr. Kaishian. "Her experience as an elementary school teacher and educational leader, her open and approachable demeanor, dedication and enthusiasm for teaching and learning appealed to those who met and interviewed her . . . I believe the Todd community will be in good hands for years to come."
She called Briarcliff Manor "a District that is dedicated to developing the whole child while providing academic experiences that are rigorous, meaningful, and address [students'] social-emotional needs . . . I am both humbled and eager to be a part of this extraordinary S -chool District."
Irvington
Going green: Irvington Schools Expand Program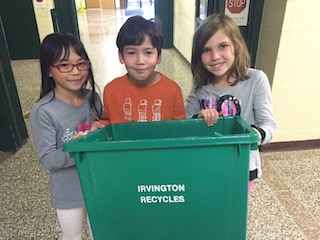 Irvington students are returning to school this fall with an expanded districtwide recycling and waste reduction program, giving them a renewed sense of commitment and deeper responsibility to care for their environment.
Jessica Munzel, a parent volunteer, points out that the program will improve recycling, encourage involvement and help educate students about the benefits of waste reduction and composting, the economics of recycling and environmental issues.
Said Munzel, "A program like this highlights that even our small, day-to-day decisions can have a big impact, especially when we work together as a community."
First launched at Main Street School as a pilot, the program has already been highly successful. Working with principal Joyce Chapnick plus members of the community and the school, students successfully reduced waste by 10-20 percent in classrooms, hallways and the cafeteria. Each classroom, hallway and office, has bins for paper, commingled and trash. The cafeteria has four bins: liquid, commingled, trash and compost.
Chapnick attributed the program's success to the collaborative efforts of parent volunteers, students, teachers, lunch aides and staff, including head custodian Angel Aviles, school secretary Sharon Regan and members of Irvington's Green Policy Task Force. The custodial staff is playing a key role in the initiative's success through their commitment and partnership.
This year, the program has expanded with similar recycling configurations at Dows Lane Elementary School, Irvington Middle and High School.
"Our students see firsthand that each one can make a difference by doing his or her part," Chapnick said. "Our efforts to further recycle will reduce our carbon footprint, and an individual's effort does have an impact."
Irvington Appoints Interim Assistant Director of Pupil Personnel Services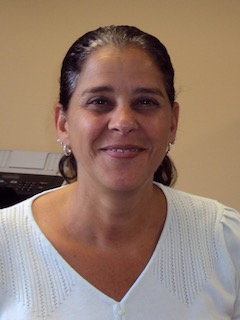 The Irvington School District Board of Education and Superintendent of Schools Dr. Kristopher Harrison recently announced the appointment of Rochelle Hoot as the interim assistant director of pupil personnel services for the 2018-2019 school year.
"Having served as a special education administrator for many years, Shelly possesses a great set of skills and deep knowledge that will be a tremendous resource for the Irvington school community," said Dr. Harrison. "We look forward to her forging a strong partnership that will serve our students, staff and parents well."
A special education teacher before entering administration, Hoot has an extensive background in pupil personnel services and special education leadership as a director of special education and pupil services in New York school districts and as a curriculum leader and assistant principal.
"We feel fortunate to have Shelly join the PPS team and I am very excited for our work ahead this year in supporting and growing our department," said Director of Pupil Personnel Services Gail Krieger.
Hoot said she was excited to be joining the pupil personnel services team.
"I look forward to working with staff and parents to ensure that students are demonstrating academic and social growth," she said.
Irvington UFSD Teacher Empowers Children In Underserved African Community
While school was out for the summer, Dows Lane Elementary School first-grade teacher Laurel Warager spent two weeks in Kenya as a volunteer educating children in underserved communities through literacy and health fitness programs.
Warager, an education specialist on the board of the nonprofit organization Move to Empower (M2E), provided the children in Kenya with curriculum that increased their awareness of the importance of movement through art, language and physical education. For example, she encouraged the students to practice good posture by balancing bean bags on their heads.
Warager also facilitated the coordination of M2E with another nonprofit organization, Days for Girls, which helps young girls manage their monthly needs through innovative and sustainable solutions.
"It is critical to shatter cultural stigmas and to keep young girls from missing, on average, 500 school days," she said.
"I am very proud of the work that M2E is doing around the world and feel so fortunate to be a member of the board," said Warager. "The children were beautiful, warm and welcoming, and the teachers were dedicated and very brave."
M2E works to create economic opportunities through fitness certification, training and mentoring. Warager was instrumental in the training and licensing of four local community representatives in Kenya who will keep the organization's mission going in four schools in the Kibera settlement.
"This is the piece which will provide the sustainability until we return," Warager said.
Tarrytown
Hudson Scholars Program Kicks Off Third Year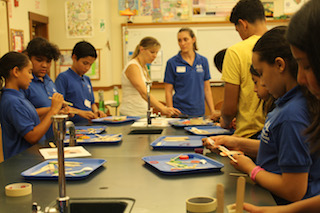 The Hackley Campus in Tarrytown acted as a backdrop for Sleepy Hollow Middle School (SHMS) students when 30 scholars from SHMS participated in the Hudson River Scholars in July, a four-week program of academic and social pursuits.
The program doubled in size this summer with rising sixth-graders joining the rising seventh-graders from last summer.
"…They want to be here, and they are excited," said Program Director David Sykes. "The returning seventh graders are wonderful role models for the new cohort, as they demonstrate hard work, collaboration, inclusivity, and a desire to do their absolute best."
Students took part in planning meetings each day and then delved into math, science, social studies, drama, art, and Physical Education.
During a science class, high school mentors and teacher Regina DiStefano taught the younger students how to build catapults out of Popsicle sticks, rubber bands, tape and spoons.
"Designing and re-designing, asking questions – these skills are transferable," said DiStefano.
The benefits of the Hudson Scholars program extend beyond the four-week session as mentors form bonds with the students that continue throughout the school year during reunions and a tutoring program.
A class called the Identity Lab focused on leadership identity and character education. Under the direction of educator Emily Washington, seventh-graders studied The International Bill of Human Rights to discover their own place in their community and the potential to become leaders. "We want them to create a strong sense of self," said Washington.
Campers, mentors and instructors ended the Hudson Scholars Program with an overnight campout at Hackley.
Sleepy Hollow Middle School Students "Go Techknow"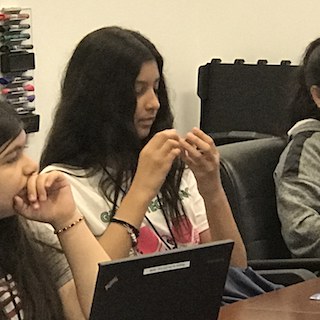 Sleepy Hollow Middle School students discovered that a whole world of technology exists at their fingertips at IBM's Girls Go TechKnow and Boys Go TechKnow Camp at the T.J. Watson Research Center in Yorktown.  In July, IBM offered four days of hands-on experience over two weeks in STEM (Science, Technology, Engineering and Math) to students from six Westchester school districts.
Six Sleepy Hollow students who attended the camp found it challenging and exciting. "There is always a new experience, a new activity," said rising eighth-grader Yesfraly Rodriguez. "You can learn so much here." Rodriguez never considered math and sciences to be part of her future studies, but she's reconsidering. That change of heart is what organizers want to see.
"It's really hard for children at this age to envision what they could be," explained Sarena Mayer, director of GTS Transformation at IBM. "…Especially for girls, they often don't have role models. They are learning, if they can see it, they can be it."
Classes were conducted by more than 50 IBM volunteers and explored such topics as the state of matter, web design and internet safety plus afternoon robotics sessions. Students made their own ice cream; learned about the tropical rain forest while designing a bridge out of popsicle sticks; used software and hardware, provided by IBM, to create Wearable Technology; and constructed a wristwatch that lights up when you speak and also contains temperature and motion sensors.
"We are grateful to the staff at IBM for providing our students with this unique opportunity," commented Jean O'Brien, technology integration specialist for the Tarrytowns. "The skills they are learning provide a strong foundation that they can bring to their instruction at Sleepy Hollow and beyond."
IBM started the TechKnow program 15 years ago. Mayer looks forward to the future. "We want to inspire students to find the field they love, to stay in school, and work through the challenges that they encounter along the way."
Tarrytown Jumpstarts School Year with Literacy Summer Institute
A group of rising first, second and third-graders got the jumpstart they needed for the new school year during a two-week Literacy Summer Institute held at the W.L. Morse School in Sleepy Hollow. Kristie Martinez, the ELA/Math Developer for the Tarrytown District coordinated the program and explained how it helps combat summer learning loss: on average children can lose two grade levels in reading over the summer break.
"The program has been designed to help revisit the literacy skills needed in order to give the students a boost in literacy prior to walking into the rigors of the next grade," said Martinez.
Teams of teachers and teaching assistants led the classes each morning, focusing on the needs of each small group. During sessions, students often read aloud or worked on phonetic skills. Now in its fourth year, the Literacy Summer Institute ran from August 20th through August 31st.