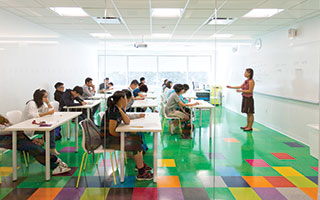 EF stands for Education First, an international education company that specializes in language training, educational travel, academic degree programs, and cultural exchange. The company will celebrate its 50th anniversary in 2015. Founded by Bertil Hult in the Swedish university town of Lund, the company is currently headquartered in Lucerne, Switzerland. A world leader in international education, EF has approximately 37,000 staff and 500 offices and schools located in more than 50 countries.
In December 2013, after a year of study and review before the Mount Pleasant town and planning boards, EF International Academy received site plan approval and special permit use to open a second boarding school in Westchester. The approvals laid the groundwork for the September 2014 announcement by Education First Academy of the expansion of their presence in New York by including a new learning facility at 583 Columbus Avenue in Thornwood, a short distance from EF's main Tarrytown campus, the former campus of Marymount College. EF Academy, a private college prep boarding school for students in grades 9-12, purchased two buildings on 97 acres from Legion of Christ, a religious non-profit that bought the former IBM Thornwood Conference Center for $33.7 million in 1996.
Just completing their first term at the Thornwood campus, the school is home to over 670 students from 75 different countries around the world. At EF, students are provided with an opportunity to experience a rigorous and progressive academic track in addition to an exceptional student lifestyle. The EF Academy International Boarding School prepares students not only for future educational success, but also to create true global citizens through 21st century learning – open to both the beauties and the challenges of different cultures by exposure to a diverse international student population. As an official IB World School, EF Academy is accredited to grant not only the New York State Diploma, but also the world-renowned International Baccalaureate Diploma. Students at EF also have the opportunity to achieve the respected International General Certificate of Secondary Education (GCSE). Students attending EF Academy consistently achieve high academic results and enjoy a 100% acceptance rate to undergraduate university programs worldwide.
According to Shawna Sullivan Merino, Director of Public Affairs for Education First, "For many years, the Westchester County community has been incredibly supportive of EF's mission to open the world through education. Since 2008, we have welcomed thousands of students from around the world to EF's campus in Tarrytown to learn a language, pursue a high school degree or study abroad while living with an American host family. When we decided that EF Academy and EF International Language School should have their own distinct campuses, we couldn't think of a better location than Westchester County for EF Academy to expand. We are very grateful for the Town of Mount Pleasant's support and partnership on EF Academy's new campus in Thornwood, and we look forward to a long future together."
The benefits of this new educational facility location are many.
In addition to the world-class teaching faculty, an innovative global curriculum, personalized academic counseling and round-the-clock pastoral care, the 50,400-square foot renovated academic building includes more than 50 new state-of-the-art classrooms and study areas. The property also features a 364,000-square foot mixed-use complex with new classrooms and student residences. There is a community space that includes a renovated cafeteria, a 250-seat auditorium and expansive study hall/library. The  campus offers landscaped grounds surrounded by beautiful woodlands, with walking/jogging trails and recreational playing fields. Plus, when classes are over for the day, students have a short 40-minute train ride to New York City, America's most cosmopolitan city, rich with world-class theater, art, dance and fashion.
Elaborating on the continued growth of EF in Westchester, Shawna added, "EF will continue to own and operate the Tarrytown campus as an EF International Language Center. Previously, EF International Language Center and EF Academy were sharing the Tarrytown campus facilities. Thanks to the expansion in Thornwood, both schools can now flourish on their respective campuses and continue to attract world-class students and young adults from around the world to Westchester County."
Growing up locally and attending a local public school, Dr. Brian Mahoney has been Headmaster of EF Academy (now in Thornwood) for the past four years. He has a long and distinguished career.  Dr. Mahoney previously served as Head of School at Rockland Country Day School and Head of Middle School at the Harvey School in Katonah. A graduate of Siena College (Bachelor's Degree) and Fordham University (Master of Science) – Education, and an Ed.D. (Doctorate) in Educational Leadership, Dr. Mahoney is married and has three children. When asked what he enjoyed most about being headmaster of EF Academy, he commented, "What I enjoy most about my current role is seeing our students implement the learning strategies our teachers provide that help them become 21st century global citizens. Our students' knowledge about the world is astonishing. The teachers and I truly enjoy watching as they continue to be ambassadors for change, aspiring to leadership opportunities in the fields of business, medicine, law, international affairs, and education."
Now with two campuses located in Tarrytown and Thornwood, Westchester is fortunate to be home to this global educational school whose mission is to help millions of people become citizens of the world by breaking down barriers of language, culture and geography.