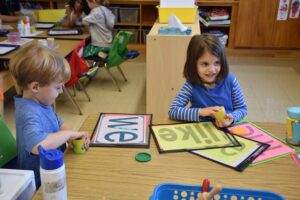 As they rotated through different learning stations, Dows Lane Elementary School kindergartners in Liz Winnegar's class practiced their math and literacy skills. The students played differentiated math games, created sight words out of playdough and selected their own books for independent reading.
In math, the kindergartners have been learning that numbers relate to specific quantities and working on identifying addend combinations within that. They practiced this skill with a partner while playing a board game, "Monster Bump It," with dice.
In literacy, the students have been learning the sounds that letters represent as they begin to read simple words. To practice their reading skills, the students worked on sight words, such as "like," "we", "you," "see" and "the" by spelling them out with playdough. In celebration of their hard work, the students also selected books to read during independent reading time.
The activities were part of their What I Need (WIN) time, which is a schoolwide system that teachers incorporate into their daily schedule to support their students' learning needs.