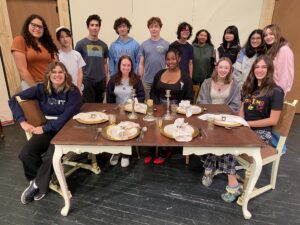 Irvington High School students will present "Dilemmas with Dinner" as its fall play from Nov. 3-4. Under the guidance of director Stephen DiGiovanni, assistant director and producer Sara Lake-Garcia, and technical director John Leyden, a dedicated and talented group of students has been tirelessly preparing for this farcical production.
"What stands out most about this production is the skill needed by the performers to get the timing just exactly right," DiGiovanni said. "There are so many funny moments in this production, and the students really are working hard to make this show as funny as possible. It's impressive to see them work together, both onstage, as well as backstage. The group of students really have bonded during this short time."
The show tells the story of junior executive Brooke, who invites her boss and his wife over for dinner in the hopes of securing a promotion. While frantically getting ready, Brooke and her husband discover that the hired help is coincidentally the boss' ex-daughter-in-law. Just when it seems everything that could go wrong has gone wrong, Brooke's boss makes an announcement and general chaos ensues.
Performances are on Friday, Nov. 3, at 7:30 p.m., and Saturday, Nov. 4, at 5:30 p.m. in the Irvington Middle School/High School Campus Theater. Tickets can be purchased at irvington.booktix.com.