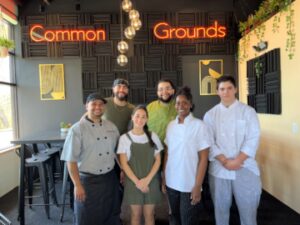 Three alumni of the Putnam/Northern Westchester BOCES Culinary program are again on common ground—or actually Common Grounds.   
Emmanuel "Manny" Henry, Autumn Jacobs, and Josh Gaillard, all of Peekskill, are working together at Common Grounds, a café/lounge that opened in the Yorktown hamlet of Jefferson Valley on March 26. Co-owner Henry is the head chef; Jacobs is a cook; and Gaillard is the pastry chef. Current BOCES Culinary student Aidan Buckler, of Somers, is also a cook. The three alums graduated from the Career and Technical Education Center program at P/NW BOCES several years ago. 
In addition to Henry, Lucas Sanchez, Lia Palumbo, and Christina Bucalo are the café's other owners. 
Henry, Sanchez, Jacobs, and Gaillard grew up and worked together in previous settings. "Lucas and I always wanted to open a café," Henry said, "and it is great to have us all together now." 
The alums' training didn't stop with BOCES. Jacobs and Gaillard are graduates of Johnson and Wales' culinary program, and Henry trained with Certified Executive Chef Michael Matarazzo at Bear Mountain Inn in Tomkins Cove and Farmington Country Club in Charlottesville, Virginia. Buckler will attend the Culinary Institute of America in the fall.  
The idea for the café grew in part out of Sanchez's experience running a coffee cart, which he parked outside his local church for five years. "I realized it was a great way to bring people together," Sanchez said. 
The new café, which sells all manner of hot and cold house-roasted coffee beverages and teas, offers both savory and sweet food options.  
A variety of omelets, salads and sandwiches, plus vegan bowls and bagels, are rounded out by house-made pastries, muffins, and cookies. 
The group intends the café to go beyond the typical. "Our passion is to bring people together over a cup of freshly roasted coffee, great food, and live music," says the company's website.  
"It is really great to be working with people I've grown up with," said Jacobs. "Putting a quality product out is the best part," said Gaillard. 
P/NW BOCES Culinary teachers Jenn Guiffre, Suzie Low Pratt, and Michael Tomaseski are beyond proud of their former students.  
"We are so happy to see these outstanding former students come together in this new venture," said Tomaseski. "They have gained a wealth of knowledge and talent along the way. We are so proud to have had a small part in their growth and success." 
"I am so excited that all the chefs are from our program," said Guiffre. "This is a great alumni success story." 
Karen Thornton is PR & Marketing Coordinator for Putnam/Northern Westchester BOCES.