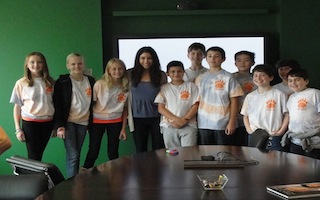 On Tuesday, November 29th, 10 middle school students from Briarcliff accompanied by five parents left school at 11:30 am to visit the headquarters of Smile Train in Manhattan. They carried with them a check for $931.00—money they had raised through businesses developed in their 5th grade math class.
The students included Grace Aldrich, Henry Anderson, Georgia Burkard, Noah Campo, Victor Carrafiello, Jonathan Gold, John Gross, Eli Karp, Kelly Morrissy and Matthew Tu.  Michael DeGasperis, Madison Hennessy and Dustin Qian were also represented by the group.
Last year, David Golod, a Math and English teacher at Todd School, gave these thirteen students in his 5th grade class an opportunity to start two businesses as part of their curriculum. The work was designed to help them learn the concepts and math associated with business basics and to raise money for a charity.  Mr. Golod guided the students as they developed business plans which they presented to potential investors (their parents), founded the businesses – an origami crafting venture called Gami-Wizards and a T-shirt business called Chari-T's —  and then made, marketed and sold their products to other students and their parents.  One of the students, Henry Anderson, suggested they look at donating their profits to an organization he had supported before, Smile Train. Smile Train is a non-profit organization that provides free corrective surgery for children with cleft lip and palate in over 80 developing countries The group learned about what the organization does and agreed on this choice.  Mr. Golod's suggestion that the students make a trip this year to New York City to deliver the money personally was received with enthusiasm.
When the group arrived at Smile Train headquarters, they were warmly received by staff member Nicole Federico, who shared with them what their donation would make possible.  The group learned that Smile Train, an organization with fewer than 50 employees worldwide, has already helped over 680,000 children in developing countries get the medical care they needed to correct the cleft lips and palates with which they were born.  Children born with these conditions often have difficulty eating and speaking, and they are unable to do something that most of us do many times a day – smile!  In developing countries where people may not have the resources to get help, these children are often kept home from school and hidden from sight.  However, Smile Train is spreading the word about the type of surgery that corrects cleft lips and palettes so that children can gain a beautiful smile and live normal lives.  The organization is now training surgeons in many developing countries to do these special operations, and at a cost of $250 per child, the lives of affected children are being changed dramatically.
Many thanks go to David Golod and Todd School for giving the Briarcliff students an opportunity to put their knowledge to work and benefit an important cause.  These students should take to heart the acknowledgment from Smile Train for their contribution.  At some point soon, Nicole Federico will send the pictures of four children with bright new smiles from Africa, China, India and the Caribbean to these 13 classmates from the U.S. who were able to help make a big difference in their lives.
For more information about Smile Train, visit online at www.smiletrain.org.