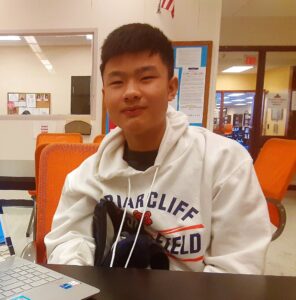 Jason Starr, 17, of Briarcliff Manor, has been named an honoree of the 2023 Gloria Barron Prize for Young Heroes. Each year, the Barron Prize celebrates 25 inspiring young leaders – fifteen top winners and ten honorees – who have made a significant positive impact on people, their communities, and the environment. This year's Barron Prize honorees are an outstanding group of young heroes chosen from nearly 500 applicants across the U.S. and Canada.
Jason founded Tutor Partnerships (See River Journal article HERE) to provide free local tutoring to students in need. His group pairs high school volunteers as in-person tutors with elementary and middle school students within the same school district. He has grown his program to 29 schools across several states, with each chapter led by a local high school student. Jason's work grew out of his experience volunteering as a virtual tutor during the Covid-19 pandemic. Frustrated by the challenges of connecting with students online, he set to work reviving the dormant in-person tutoring club at his high school. With a fine-tuned model, new leadership team, and support from his school district, the club met with resounding success. Early in 2022, Jason created Tutor Partnerships to expand the program's impact to other schools. His nonprofit has been selected as part of the National Partnership for Student Success, President Biden's call to action to help students recover from critically lost learning during the pandemic. "It feels good to have gone beyond my original goal of helping students learn," says Jason. "When families tell me what a difference my program has made for them, I feel happy to have created meaningful change in my community."
The Barron Prize was founded in 2001 by author T. A. Barron and named for his mother, Gloria Barron. Since then, the Prize has honored more than 500 young people who reflect the great diversity of America. All of them demonstrate heroic qualities like courage, compassion, and perseverance as they work to help their communities or protect the planet.
"Nothing is more inspiring than stories about heroic people who have truly made a difference to the world," says T. A. Barron. "And we need our heroes today more than ever. Not celebrities, but heroes – people whose character can inspire us all. That is the purpose of the Barron Prize: to shine the spotlight on these amazing young people so that their stories will inspire others."